When using a pressure cooker for induction hob, food can be cooked extremely fast, using a minimal amount of fuel, saving money, energy and time.
If you're looking for the best pressure cooker for induction hob, our picks below definitely won't disappoint. But first, here are a few things to keep in mind when choosing an induction hob pressure cooker.
Features to Look for in an Induction Hob Pressure Cooker
Secure Locking Mechanism – the pressure inside the pot only begins to increase if the lid is perfectly sealed.

Safety Valves

– safeguard against pressurised steam being released too early.
Magnetised Base – a layer of ferrous metal is needed to connect to the induction hob's magnetic field.

Large Capacity

– ideal for one-pot family meals and preparing additional meals for freezing.

Choice of Cooking Modes

– versatility for cooking with different levels of pressure.
Best Pressure Cookers for Induction Hob
---
1. Tefal Induction Hob Pressure Cooker
---
This six-litre capacity induction hob pressure cooker is manufactured from stainless steel, with a weight of 2.7kg and 25cm diameter.
It is equipped with a five-stage safety mechanism to ensure the lid is properly secured and can be opened in complete safety once the pressurised steam has been released.
A safety valve button indicates when it's safe to open the lid. The cooker has two settings for cooking food at either high or low pressure.
The handle is resistant to heat and the interior of the cooker has an easy to clean, non-stick coating.
Pros
Safety mechanism
Strong handle
Stainless steel body
Cons
---
2. Prestige Smart Plus Induction Hob Pressure Cooker
---
Recommended
The aluminium six-litre pot has a non-stick coating for easy cleaning. The Ultra Safe lock ensures the lid remains closed until the pressure has been released.
There's a safety lock indicator and valve that releases steam in a safe direction.
It has two cooking modes of 12lbs and 8lbs and weighs 2.76kg. For easy lifting, there's a small, looped handle on the opposite side of the large, heat-resistant handle.
Accessories include a wire trivet, steamer and divider. The base contains a layer of magnetic steel for compatibility with an induction hob.
Pros
Large 6 litre
Ultra safe lock
Accessories included
Cons
---
3. Amazon Basics Stainless Steel Pressure Cooker
---
This six-litre Amazon Basics Induction Hob pressure cooker is manufactured in durable stainless steel. It contains an automatic safety device that prevents the internal pressure increasing if the lid hasn't been secured properly. There is also a safety valve that indicates when it's safe to open the lid.
The pressure cooker has two versatile settings to cook quickly at a high pressure of 90kPa, or much slower at 50kPa. The sturdy handle of heat-resistant Bakelite is contoured for a comfortable grip.
A stainless steel steamer basket is included for cooking foods separately. The pressure cooker weighs 2.92kg and has a 22cm diameter.
Pros
Large 6 Litre
Safety valve indicator
Accessories included
Cons
---
Types of Pressure Cookers
---
There are two types of pressure cookers, a standalone electric version and a traditional stovetop model.
The electric pressure cooker offers more convenience regarding automated settings and pre-set programmes, but it takes up considerable space in the kitchen. It's also far more expensive to run, largely cancelling out the economical advantages of using a pressure cooker.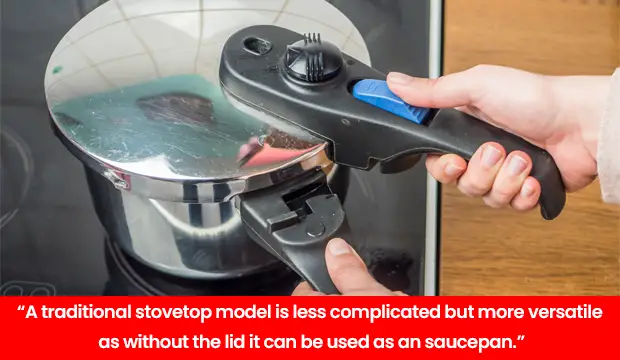 A traditional stovetop model is less complicated but more versatile as without the lid it can be used as an additional saucepan.
It's also easier to clean and helps to save money by using less energy to cook food.
---
Why use a Pressure Cooker with your Induction Hob
---
Using a pressure cooker with an induction hob is incredibly fast and efficient with the potential to save the most money of any conventional cooking method.
An induction hob operates through an electro-magnetic system that is only activated when a pan with a magnetised ferrous layer completes its circuit by being placed on the ceramic glass surface.
The resistive oscillations of the electro-magnetic system only heats the base of the pan and not the rest of the hob.
Cooking begins instantly without having to wait for the elements or burners to heat up and the system itself is much faster than using gas or electric, saving both time and energy.
When cooking with pressurised steam on an induction hob, the process becomes even faster and can lead to greatly reduced fuel bills.
---
How a Pressure Cooker Saves Time and Money
---
Several ingredients can be placed together or in separate layers by using a steaming basket inside the pressure cooker, enabling an entire meal to be cooked with just one heat source.
A small quantity of water has to be included, which turns into steam when heated, this steam becomes highly pressurised through being securely locked in and as the pressure mounts, it can reach extreme temperatures.
The pressure forces the steam to penetrate the fibres of the ingredients, enabling thorough cooking in a vastly reduced time frame.
---
How to find the Best Pressure Cooker for an Induction Hob
---
Here are a few things to keep in mind when choosing the best pressure cooker for your induction hob:
Layered Base
As with any pan for an induction hob, the pressure cooker must have a ferrous metal in its base to activate the electromagnetic system.
A solid base usually consists of cast iron or magnetised stainless steel and a layer of aluminium that greatly improves the speed and effectiveness of the heat distribution.
Safety Valves
Cooking with steam that is powered by intense pressure can be hazardous if the lid is opened before it has had time to subside.
The best pressure cookers have an automatic safety valve, usually in the form of a button in the handle.
As the pressure rises, so does the button and when cooking is complete, a directional valve helps to safely release the steam without it getting in your way.
Only when the safety button has dropped to a normal level can a pressure cooker be opened.
Safe Locking Mechanisms
The lid must be securely locked into position for the pressure cooker to work safely.
An automatic sensor that detects if the handle is misaligned prevents the pressure from increasing until the lid is properly closed.
Materials
Pressure cookers for induction hobs are usually made of high-quality metals such as stainless steel and aluminium. Stainless steel is often heavier and more expensive than aluminium.
Each type will usually have a layered base that's compatible with an induction hob to maximise heating and cooking efficiency.
Size and Weight
Pressure cookers are available in several sizes from a compact 1.5 litres up to an industrial twelve litres.
The average capacity for family meals is between four and six litres. These can often weigh up to three kilograms when empty.
Capacity
A large six-litre capacity provides approximately ten servings, which means extra portions can be made for an average family of four or five people.
This is a convenient and economical method of food preparation as meals can be cooked in advance and then frozen until needed, therefore saving time and money.
Handles
Handles need to be strong and securely fixed to the body of the pressure cooker as they are responsible for lifting filled weights far in excess of four or five kilograms.
Most pressure cookers have an additional small, looped handle on the opposite side to the main handle to help with lifting the pan safely.
The handles are often made of cast stainless steel and heat-resistant Bakelite.
Non-Stick Coatings
These can help to make cleaning your pressure cooker effortless and quick, even by hand. The lid contains the safety mechanism in the upper part of the handle and a rubber seal, making it unsuitable for a dishwasher.
However, the lower section of the pressure cooker can usually be cleaned in a dishwashing cycle like any other pan designed for an induction hob.
Choice of Cooking Modes
Many pressure cookers have versatile cooking modes that allow you to cook food at maximum speed or at a slightly slower pace.
Different modes help you develop a range of culinary techniques such as stewing, making preserves and steaming.
Accessories
Accessories increase the versatility of your pressure cooker, helping you to create complex meals in just one cooking pot.
They include stainless steel steamers with additional dividers to keep various ingredients separate and wire trivets that help to keep joints of meat or chicken clear of excess fat.
Airtight Lid
A pressure cooker is remarkably quiet when in use as the lid is secured with a lock and rubber gasket so it doesn't rattle like a normal saucepan.
Also, your kitchen won't become filled with steam as the vapour can't escape from the pan during the cooking process.
---
Pressure Cooker FAQ
---
Can I use a normal pressure cooker on an induction hob?
As long as the pressure cooker has a ferrous metal in its base to activate the electromagnetic system – it will work.
Try putting a magnet on the base of the pressure cooker you have, if it sticks, it will work.
Can I put a pressure cooker in the dishwasher?
You can put the actual cooker in the dishwasher but the lid with the safety valve system and rubber gasket should not be cleaned in the dishwasher.
Will the rubber gasket around the rim of the lid need replacing?
The rubber gasket is an important part of the pressure cooker as it provides the lid with a reliable airtight seal.
It might eventually become worn and need to be replaced, but looking after it properly should help it last longer.
Wash it manually, avoid stretching it and always make sure it is completely dry before fitting it back into the lid.
How safe is food when it's cooked in a pressure cooker?
Pressure cooking is actually a very safe method as the fast, high temperatures effectively kill bacteria such as salmonella, e-Coli and listeria.
What can I cook in a pressure cooker?
It's perfect for a huge range of dishes such as Chilli con carne, stews, joints of meat or chicken and steamed vegetables and puddings.
You can even use it for homemade chutney and jam.
How much time can I save by using an induction hob pressure cooker?
It varies depending on the type of food you are cooking. With a standard pressure cooker, a joint of beef can be ready in about one-tenth of the time it usually takes.
A dish such as Chilli con carne that includes kidney beans may be fully cooked in half its normal time.
And through using a fast, efficient induction hob the total cooking time is further reduced because of not having to wait for the hob to heat up.
How much food can I put in a pressure cooker?
It's usually advisable to leave some room inside the cooker to allow the steam to expand, so you must be careful not to fill it to the brim.
Remember that ingredients such as pasta and rice will also need some spare space as they increase in size.
Your new pressure cooker should include detailed instructions for different ingredients, but as a general rule, it can be approximately one-third full for pasta, up to half for stews and two thirds for joints of meat plus vegetables.
Conclusion
Using a pressure cooker with an induction hob is the most energy-efficient and fastest method of conventional cooking that can actually save significant amounts of money.
Both the pressure cooker and the induction hob are easy to use and maintain, enabling you to create delicious, homemade meals that retain a maximum level of vitamins, minerals and flavour.
With their incredibly fast, combined cooking times, they offer a realistic, healthy alternative to pre-packed convenience foods.