A non-stick induction hob wok is a versatile addition to any busy household. Its distinctive shape with a narrow, rounded base, wide rim and high sides optimises its ability to heat and cook food quickly and efficiently.
However, when choosing a wok for an induction hob it must have a specific design. The base must be flat and include a ferrous layer to ensure it makes an effective connection with the magnetic field of an induction hob.
What to Look for When Choosing an Induction Wok
Heavy, flat base design – Essential for connecting to the induction hob's magnetic field.
Layered base – Different metals activate and distribute heat effectively.
Reinforced, non-stick coating – Withstands the wok's high temperatures and ensures your food doesn't stick to the wok.
Comfortable handle – Makes lifting and moving the wok much easier.
Dishwasher safe – Nobody likes cleaning up, always look for induction hob pans that are dishwasher safe.
Best Woks for Induction Hob
---
1. Tefal Titanium Excel 28cm Induction Wok
---
The non-stick coating is reinforced with strong, durable titanium. Compared to standard non-stick coatings, its performance is twenty-four times more effective. It's reliably scratch-resistant and can even be used with metal utensils.
The wok is manufactured from aluminium to ensure it quickly reaches a high temperature and provides an even distribution of heat. The stainless steel handle is ergonomically designed for a comfortable grip.
The wok is ideal for an induction hob due to its solid, flat base. It includes layers of aluminium and ferrous steel for a perfect connection to the magnetic heat source. The 14cm depth makes the wok suitable for a variety of culinary techniques.
Tefal's Thermospot Technology cooks food to perfection as it indicates when the wok has reached a suitable temperature. The wok weighs 1.04kg and can withstand oven heat of up to 250 degrees Celsius.
Pros
100% Induction compatible
Titanium non-stick coating
Flat base
Even heat distribution
Cons
---
2. Tefal Comfort Max 28cm Induction Hob Wok
---
This Tefal induction hob wok features Tefal's Thermospot Technology which changes in appearance when an ideal cooking temperature has been achieved. Designed for use with any hob, including an induction hob, the flat base is impact-bonded for maximum strength and reliability against warping.
It includes a disc of aluminium sandwiched between stainless steel to ensure an ideal heat distribution and reliable magnetic connection.
The durable Power Resist non-stick coating enables food to cook quickly without sticking or burning. The wok is manufactured from the highest quality 18/10 stainless steel and weighs 1.06kg. Its 18% chromium content has natural rust-resistant properties for a guaranteed lifetime of use.
The contoured handle is made of Bakelite that remains comfortably cool even when heated. The wok can be safely transferred to the oven for up to one hour at a temperature of 175 degrees Celsius.
Pros
Stainless steel
Oven safe up to 175 degrees celsius
Ergonomic handle
Cons
---
3. Amazon Basics 28cm Induction Hob Wok
---
This Amazon Basics induction hob wok is constructed from high-quality, food-grade 304 stainless steel. It retains heat effectively and can be placed in an oven with a setting of 170 degrees Celsius. The flat, 17cm diameter base is compatible with all induction hobs.
It has a triple-layer construction including aluminium for reliable and even heat distribution. The handle is made of cast stainless steel and has a coating of soft, heat-resistant silicone, combining comfort and a secure grip.
The sturdily constructed wok weighs 1.19kg and has a generous depth of 10.82cm. The exterior has a layer of hard-wearing white enamel while the interior has an effective non-stick coating made of Whitford Xylan Plus 2.
It's PFOA-free to ensure food is cooked without contamination. This wok can be cleaned in a dishwasher, although, for best results, manual washing is recommended.
Pros
PFOA-free coating
Oven safe up to 170 degrees celsius
Dishwasher safe
Staniless Steel handle
Cons
---
4. MasterClass Non-Stick Steel Wok
---
This sturdy, 35.5 cm induction hob wok is manufactured from heavy-duty carbon steel with a thickness of 2 mm. It promises to reach high temperatures very quickly, while effectively distributing the heat.
The base has a diameter of 17 cm and a depth of 10 cm, providing excellent space for stir-frying large volumes of ingredients.
The advanced non-stick coating has been specially formulated and includes additional fragments of stainless steel. It should be tough and resilient enough to withstand use with metal accessories.
The stainless steel handle has extra length and for convenient use, there is also a small handle on the opposite side of the wok.
Pros
Professional design
Reinforced non-stick coating
Useful handles
Spacious interior
Cons
Non-stick coating could be better
---
5. Kitchenaid Non-Stick Aluminium Wok
---
Aluminium is an excellent conductor of heat enabling this induction hob wok to heat up in seconds. The wide base is suitably weighted with steel making it ideal for connecting to the electromagnetic circuitry of an induction hob.
The sturdy handle is made of heatproof bakelite. It stays comfortably cool when in use and can tolerate an oven temperature of 160 degrees Celsius.
The wok includes curved sides that help keep ingredients in place. With an impressive depth of 12 cm, you can try vigorous stir-frying techniques with ease.
The seamless, classic design features a highly durable non-stick coating. It has been applied in three layers, creating a reliably tough surface that should last a long time.
Pros
Strong, heavy-duty aluminium
Curved sides retain food
Wide base
Three layers of non-stick coating
Cons
Handle heats excessively at base
Feels heavy
---
Induction Hob Wok Buying Guide
---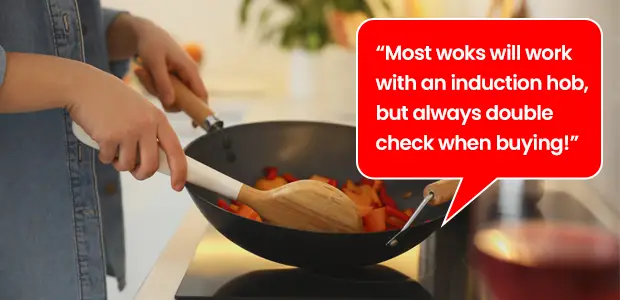 Induction hobs are energy-efficient and time-saving, but they do need to have suitable cookware. Pans including woks, need to have a particular design with a ferrous base layer that attracts the magnetic field towards it and activates the heat to cook food.
Here are a few things you should look for when choosing the best induction hob wok for your needs:
Flat Base
As we have already pointed out, a flat base is a must! An induction hob wok has to have an adequate amount of contact with the magnetic field beneath the ceramic surface.
Without it, the wok won't be able to achieve the right amount of heat distribution and your food will not cook properly. Ideally, the base should be approximately 15cm to 17cm in diameter, any larger and it will behave more like a frying pan.
Size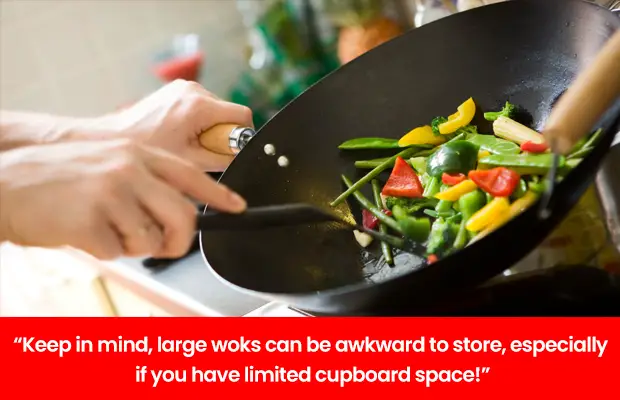 Woks are generally spacious in order to provide plenty of room for steaming and vigorous stir-frying. If you are purchasing a wok for two to four people consider a 28cm diameter, but for much larger families a 30cm is probably preferable. Keep in mind, large woks can be awkward to store especially if you have limited cupboard space.
Materials
An induction hob wok has to contain ferrous metal such as carbon or stainless steel to be compatible with the heating mechanism's magnetic field. The wok can either be made entirely of the ferrous metal or have a layer of it in its base.
Cast Iron: The traditional metal for a wok, cast iron distributes and retains heat exceptionally well to cook your food to perfection. However, it usually takes longer to reach an adequate temperature than other metals and is very heavy to manoeuvre.
Carbon Steel: As an inexpensive metal, carbon steel is a popular choice for woks. It heats relatively fast, holds the heat well and is much lighter to lift than cast iron. It is vulnerable to corrosion, but with a non-stick coating, it should provide years of trouble-free service.
Stainless Steel: These are usually the most expensive woks. They heat quickly and maintain the temperature well for effective cooking. Due to the presence of chromium and nickel, stainless steel has excellent anti-rusting properties and retains its silvery appearance. The best quality 18/10 stainless steel contains 18% chromium and 10% nickel.
Aluminium: Woks are usually manufactured from a heavy gauge aluminium that is less likely to warp when heated at high temperatures. As the lightest of our featured metals, aluminium is easy to lift and has excellent resistance to corrosion. It warms quickly and is an effective conductor of heat, making it an ideal choice for a wok. However, it scores low for its magnetic properties and will need a ferrous metal base to connect to the induction hob.
Layered Base
Many woks, particularly those manufactured in aluminium, have sturdy bases made of two or three layers of different metals. The layers of carbon or stainless steel are used to provide the magnetic connection that an induction hob needs in order to activate the heat supply.
Non-Stick Coatings
These really help to make your wok easy to use and clean by preventing food from sticking to the surface. Many standard non-stick coatings don't always react too well with the high temperatures of a wok, but there are many reinforced coatings available that enhance the wok's performance.
Titanium is one of the strongest metals, making its inclusion in a non-stick coating extremely effective against scratches. It is also highly resistant to corrosive substances which make it a reliable choice for stir-frying foods with high acidic content.
Granite is a natural rock with an incredibly hard density, surpassed only by diamonds.
Handles
You need a secure handle as most high-quality induction hob woks can be quite heavy. Versatile techniques such as stir-frying require some manoeuvrability. Many handles are made of moulded Bakelite, a modern update of the old original version that was the forerunner of plastic.
Handles made of Bakelite are heat-resistant and keep their shape even if you place them in an oven. Silicone handles are heatproof and soft to touch making them easy to grip. Most handles have ergonomic designs ensuring they are comfortable to hold.
Lid
A wok with a lid becomes even more versatile as it allows you to use different techniques such as steaming, braising and simmering. A lid of reinforced safety glass also allows you to see how the ingredients are faring without having to interrupt the humidity inside the wok.
Oven Compatibility
Many woks that are suitable for an induction hob are usually manufactured to such a high standard that they can be taken from the hob and placed directly in an oven to continue cooking.
They can often withstand temperatures of up to 260 degrees Celsius. Handle materials such as Bakelite and silicone are ovenproof, making the wok versatile and convenient to use.
---
Induction Hob Wok FAQ
---
Can I use a normal wok on an induction hob?
It's not advisable as the round base of a traditional wok won't provide enough contact with the induction hob to heat it effectively.
How can I safely remove burned-on food?
Even if your wok hasn't been seasoned, soak it for five or ten minutes in hot water, without soap, before wiping away the debris with a soft cloth.
How is a wok different from a frying pan?
The sloping sides direct the flow of heat back in towards the centre of the wok, achieving a hotter temperature that is more effectively distributed than in a frying pan.
Do I need to season a non-stick wok?
It isn't essential to season, but some people like to as it may improve the performance of the wok. It's easy to season it by applying a small amount of oil to the surface then heating the wok for a few minutes. Allow to cool before wiping away the excess oil.
What is meant by a pre-seasoned wok?
While a wok is being stored at the manufacturer's premises, it is given a light coating of oil to protect it from dust or corrosion caused by moisture.
Before you use your new wok, make sure you wash it thoroughly in warm, soapy water to remove all traces of oil. Rinse and dry your new wok and season it if desired.
Conclusion
When choosing a wok for an induction hob, make sure it has a strong, level base that won't warp. It needs to be level to maintain a reliable contact with the ceramic glass plate to activate the magnetised heat.
A layered base of aluminium and stainless steel combines the best of both worlds, providing a solid, heavy construction of magnetised metal and a fast, even distribution of heat.
Our picks for the best induction hob woks each have high performance, non-stick coatings, but choosing one with additional reinforcement should increase its durability.
A lid is a useful feature when braising or steaming, although it's usually an optional extra.
If you've never used a wok before, you'll soon appreciate its versatility and fast cooking times. And when it's combined with the highly effective results of a hob that uses induction heat, meal preparation should be quick and easy.