If you're a chip lover looking for the best chip pan for induction hob, you've come to the right place.
Keep in mind that not all chip pans will work with an induction hob, keep on reading to see our pick for the best induction hob chip pan that's guaranteed to work on your hob.
[lwptoc depth="1″ title="Table of Contents" hideItems="1″]
What to Look For When Choosing a Chip Pan for Induction Hob
Heavy, ferrous metal base – Essential for connecting to the electromagnetic circuitry.
Easy clean inner basket – Shake away the surplus oil.
Ergonomic handles – Provides a steady grip while remaining cool to touch.
Deep, spacious interior – Helps keep oil safely contained.
Dishwasher-friendly – Takes the drudgery out of cleaning your greasy chip pan.
Best Chip Pan for Induction Hob
---
Judge Vista JJ84A Induction Hob Chip Pan (22cm)
---
You'll get around five portions of tasty chips from this surprisingly deep chip pan. It's manufactured in the UK from 18/0 high-quality stainless steel.
The magnetised, induction-friendly base is hot forged for additional strength and optimal heat distribution. The pan is ultra-sleek and shiny with a rounded design.
The stainless-steel basket is sturdy and lightweight and the chip pan weighs approximately 2.6 kilograms. There's also a small handle opposite the main one, this helps to move the pan around safely.
The handles are manufactured from phenolic, a polymer resin, it's versatile, hard-wearing and oven safe up to 180°C.
A glass lid is also included, and the chip pan is dishwasher safe and has a twenty-five-year guarantee.
Pros
Extra deep
Helper handle
Glass lid
Cons
Basket gaps
Slightly heavy
---
Chip Pan for Induction Hob Buying Tips
---
Chip pans are versatile items of cookware. Deep fat frying is a fast technique that you can use to make chips, chicken, Japanese tempura and seafood. You can even deep-fry doughnuts in a chip pan.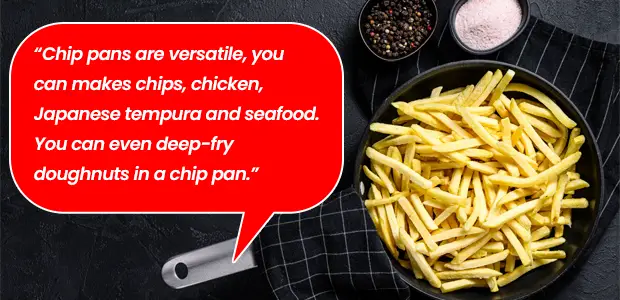 With induction cooking, your meal is ready much faster than with conventional methods. But what should you look for when buying the best chip pan for induction hob? Here are a few essential features to look for:
Magnetised Base
Your chip pan needs a compatible base, otherwise, it will not work with an induction hob. Cooking is fast and efficient through electromagnetics. When you place a suitable chip pan on the ceramic glass surface, it completes the circuit.
Some chip pan bases have layers of different metals to maximise performance. Magnetised, ferrous metals include stainless steel, carbon steel and cast iron. A flat, heavyweight base helps keep the chip pan firmly connected to the electromagnetic circuit.
What are Chip Pans made of?
The entire pan doesn't have to possess magnetic qualities. Many chip pans are made of non-magnetic aluminium.
It's a lightweight, effective conductor of thermal heat. It also helps the pan retain the high temperatures necessary for deep fat frying. Other suitable metals include stainless steel and cast iron.
Size of the Chip Pan
Always purchase a chip pan that has plenty of space inside. It's because you must only use one-third of the chip pan for vegetable oil. The level becomes higher once you add the chips.
Chip pans can be dangerous if the oil spills out, especially onto a hot hob. But at least, with an induction hob, the ceramic surface stays cool while in use.
Using a Lid with your Chip Pan
If you use a lid, the steam from the chips becomes trapped inside it and quickly begins to drip back into the pan. The excess moisture can spoil the crispy texture of your chips.
Water and boiling hot oil just don't agree. Any water droplets landing on the oil's surface quickly fly out in all directions and they'll contain hot, burning oil.
Removing a lid while deep frying can have its scary moments! If your chip pan is versatile for use with other techniques, such as steaming or braising in the oven, the lid will then be of great use.
---
Induction Hob Chip Pan FAQ
---
Q.1. Are chip pans a fire hazard?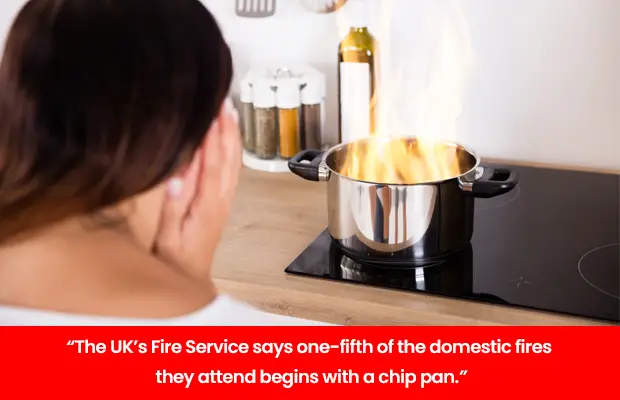 The UK's Fire Service says one-fifth of the domestic fires they attend begin with a chip pan. They warn that leaving chip pans unattended, even for a few seconds, is the main cause of the oil suddenly igniting. You need to be extra vigilant when deep fat frying.
Q.2. Do I have to wait for the oil to smoke before adding uncooked chips?
Absolutely not! If the oil is smoking, it's a micro-second away from igniting. Take the pan off the heat immediately and wait for it to cool slightly before continuing.
Q.3. How do I know when the chip pan is hot enough?
Drop a small crust of bread into the oil. If it starts to crisp nicely, it's ready for those chips.
Q.4. How often can the oil from a chip pan be re-used?
The oil collects debris after each use, especially with messy, breadcrumb coatings. It's best to change the oil after using it eight to ten times.
Never pour it down the sink as it forms greasy blockages that are very hard to eradicate. It also escapes into the environment where it's hazardous to wildlife.
Dispose of cooking oil in your general household waste, but keep it securely contained.
Conclusion
A chip pan for induction hob cooks chips in a few minutes. Always choose a high-quality pan with a solid base. Versatility makes your purchase an economical investment as you'll use it for all types of techniques.
Remember that boiling oil is dangerous if you don't stay on your guard. Keep vigilant and you can look forward to delicious, home-cooked chips at any time. And don't forget the tomato ketchup!