Can I install an induction hob myself? This is actually one of the most common questions we get asked here at Hob Guide. Some people believe that they can easily install an induction hob on their own because induction hobs do not work with gas.
Depending on where you've purchased your brand-new induction hob, installation may not be included. Although you might not want to wait or pay for a professional installation, there are several reasons why you should not attempt the job yourself.
Can I install an Induction Hob Myself?
In one word, "NO". Unless you are a fully qualified electrician, you are dicing with death by attempting to install an induction hob on your own. In addition, your induction hob is a complicated piece of equipment. You can easily make a mistake and cause it to malfunction before you've even used it.
If you need any more convincing, here are the main reasons why you should leave it to the professionals when installing an induction hob.
Why You Should Not Install an Induction Hob Yourself
1. Spoiling Your Worktop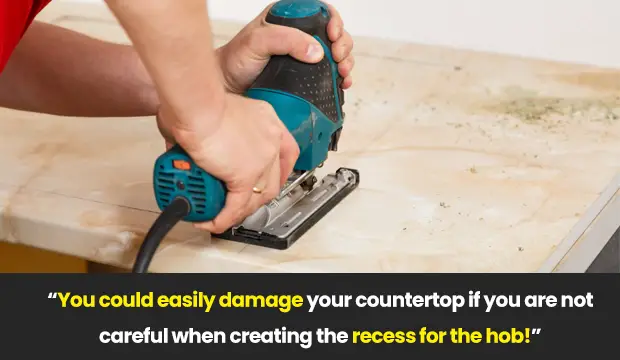 When your induction hob is installed, it should be fitted into a recess on your kitchen counter. If you're replacing an existing hob, you might be lucky and find the new hob is exactly the same size.
Usually, there are slight differences in the depth of the hob which means you'll have to do some readjusting. Positioning the hob in a new spot will mean accurately cutting a new hole.
If your worktop is laminated, you might manage with a regular jigsaw, but the material is prone to splitting if you're not careful. If you have a granite countertop you'll need more powerful tools, like an angle grinder, which most people wouldn't normally have in their toolbox.
Angle grinders are unexpectedly powerful and tricky to manoeuvre, increasing your chances of spoiling your worktop, cutting the hole too large or out of shape. You'll then need to pad out the spare spaces with unsightly fillers.
2. An Uneven Hob
Installation involves fitting the hob onto wooden supports and securing it with clamps. The main hazard at this stage of a DIY installation is maintaining a perfectly level surface. It's not easy fixing wooden battens with screws while trying to make sure they are level.
Fitting the hob into the worktop usually means levelling the hob from underneath. There might not be much room for you to manoeuvre inside a cupboard and the hob can feel heavier the longer you have to hold it.
An uneven hob is annoying as ingredients slide to one side of the pan producing less than satisfactory results.
3. Invalidating Your Insurance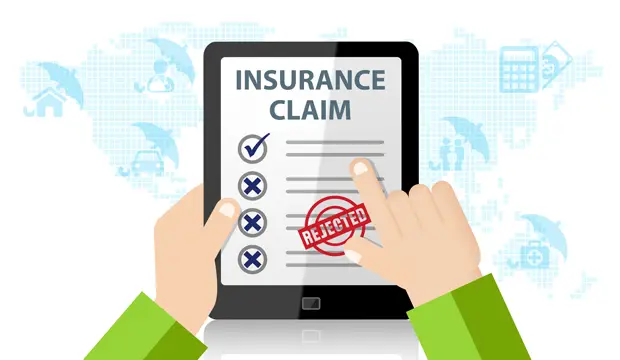 If you read the small print of either the induction hob's warranty or your home insurance, you'll probably discover that DIY work invalidates any claims you might need to make.
If the hob already had a manufacturing fault when it was delivered, your handiwork will prevent you from obtaining a replacement.
Tampering with electrical circuits can lead to your hob or the power switch on the wall overheating or short-circuiting. Either fault can be a potential fire hazard.
If your kitchen or the rest of your home is damaged, you won't be able to claim anything from your insurers. To make a successful claim, you need to prove the hob was installed professionally.
4. Dangers of Hard-Wiring
When you're installing an induction hob that's hard-wired, it's nowhere near as simple as changing a plug. The electricity supply and the hob need to be compatible with the right voltage and circuit breakers.
If you are installing the hob in a different area of your kitchen, you might even need to fit a new socket at the same time.
Take my advice, and do NOT attempt to hard-wire an induction hob, or any other appliance, yourself. The complexity of electrical wiring requires specialised training. The danger of electrocution in hard-wiring an induction hob yourself is simply far too great.
Related: Do I need an electrician to install an induction hob?
How much does it Cost to Install an Induction Hob?
On average, it could cost between £100 and £150 for an induction hob installation. The exact cost could vary depending on which region of the UK you live in.
However, professional electricians often charge competitive prices to encourage more trade. Always choose a fully-qualified electrician from a reliable company who can provide a guarantee for the quality of their work.
Conclusion
Induction hobs vary in price, but mid-range models might cost around £500. Some new hob owners may be tempted to reduce their costs by not paying for the hob to be professionally installed.
However, as we've outlined above, the task is far from easy and there are many errors you can make. Spoiling your worktop or having to live with an uneven hob can be upsetting.
The main reason to avoid installing your induction hob yourself is to keep you and your family safe from being electrocuted. That's something you can't put a price on!
You're sure to enjoy using your new induction hob, but stay safe and have it installed professionally. If you don't want to pay installation costs, choose a 13-amp plug-in induction hob instead.