If you're looking for the best 13-Amp induction hob, you've come to the right place. Keep in mind that most induction hobs require higher electrical ratings; hence, plug-in induction hobs are not usually as powerful as hardwired induction hobs.
A 13-amp induction hob is an easy-to-use, energy-saving hob that doesn't require professional installation like the higher power-rated hobs; just plug it into any 13-amp socket, and you're good to go.
What to Look for in a 13-Amp Induction Hob
Auto Shut Down – An induction hob with this feature turns off once it doesn't detect a pan or when it exceeds the programmed cooking time.
Safety Lock – Automatically locks the hobs control and prevents children from mistakenly turning the hob on.
Programmable Timer – This allows you to set a specific amount of time for certain foods.
Adjustable Temperature and Power Control – The hob's power regulates automatically based on the temperature at the base of the cooking pan.
Overheat Protection – Extends the hob's lifespan and protects against overheating.
Best 13-Amp Induction Hobs UK
---
GIONIEN 13 Amp Plug-in Induction Hob
---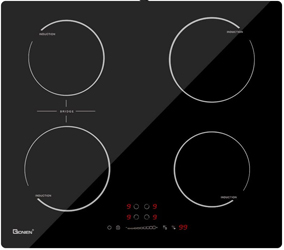 This 13-amp induction hob from Gionien comes with safety features like residual heat indicator, child lock, auto safety switch-off, and small particles detection. Therefore, it is safe to use around kids, and older users can conveniently use it without fear of accidents.
Adjacent burners create a double cooking zone for extra-large pans. Power Boost for rapid boiling. Hob automatically shuts down if it's left switched on. 60cm width provides plenty of space. Two burners at 1500W and two at 1200W.
Pros
Double cooking zone
Power Boost
Touch screen control
Childproof lock
Residual heat indicator
Cons
---
NEFF 13 Amp Plug-in Induction Hob
---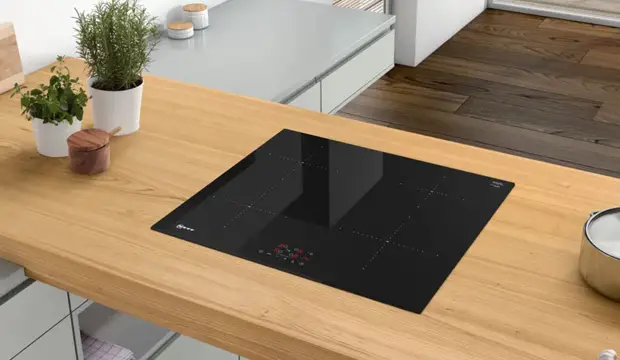 This hob impresses at first glance due to its sleek look that's perfectly on point with the modern kitchen aesthetic of the moment. This NEFF 13 amp induction hob has four induction zones offering ultra-precise heat.
Adjusting the temperature is easy! Finger-touch controls mean you're never fussing with buttons or dials. While the easy temperature adjustment makes it unlikely that you'll have anything bubbling over, the hob's smooth profile makes wiping up spills a breeze.
The button-free design eliminates the hassle of trying to keep buttons and knobs free of crust and debris. This hob has a power management function for your safety that limits power to each zone for usage balance. While zones will not be turned off, they will be automatically reduced to keep total output below a safe level.
Pros
Even, fast heating
Easy-to-touch controls
Power boost for ultra-quick boiling
Plug in and go, no electrician required
Cons
Power reduces when you use all four zones simultaneously
---
COVERCOOK Plug-in Induction Hob
---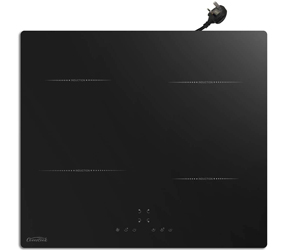 The COVERCOOK plug-in induction hob is an excellent power-saving hob with four cooking zones. This hob has nine power levels and a touch-sensitive control for easy setting. Since it has black crystal glass, cleaning this hob is pretty easy and straightforward.
Key features include a fast cook power boost and low-temperature control for gentle cooking to help extend the hob's life. Activate two burners simultaneously to accommodate long, large pans. This 13 amp induction hob also includes a safety lock and timer for additional peace of mind. Two burners each at 1200/1500W and 1500/2000W.
Pros
Two-burner cooking zone
Low-temperature controls
Power boost function
Touch-sensitive controls
Easy to clean
Cons
Reduced power when using all burners
On/off can be awkward
---
Singlehomie Plug and Play Induction Hob
---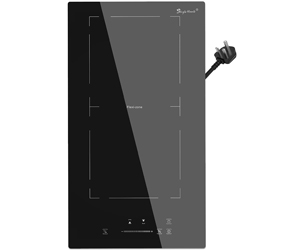 This ultra-shiny 30cm induction hob features two burners in what can be described as a stylish and compact design. It's literally a plug and play induction hob, which means no hardwiring is required. What makes this hob stand out from other small induction hobs is its flexible zone that allows you to cook beyond the limited heat rings.
Two zones can be combined to create a larger circle that delivers the even heating of a single large cooking zone. A built-in pan sensor alerts you to problems like wrong-sized cookware, non-magnetic cookware or small objects that have been left on the hob. The cooker will automatically go on standby when these errors are detected.
This plug-in hob boasts nine heat levels. The slider touch controls make toggling between the settings to activate innovative features a breeze. This is one of the easiest small hobs to use while still offering sophisticated performance.
Pros
So many features for a small hob!
Bridge feature lets you cook with larger pans
Smooth and modern controls
Offers useful safety sensors
Cons
---
Siemens IQ-100 13 Amp Induction Hob
---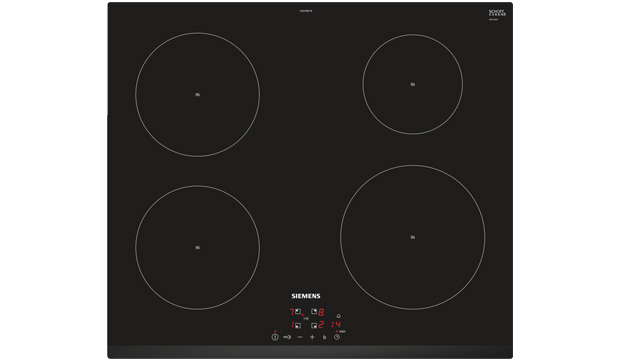 This gorgeous 13 amp plug-in induction hob features four induction zones offering responsive heating. The lockable control panel is a great safety feature to have on your radar if you have kids in the house. The separate timers for each zone are also very easy to use for getting perfectly cooked food without any hassle.
The touch controls on this hob make it easy to adjust the temperature with an effortless stroke of the finger. Overall, this hob offers powerful performance in a design that's easy to use. There's even a power-boost feature that can be used on one zone at a time.
Pros
Attractive design
Powerful
Lockable control panel
Separate timers for each zone
No electrician required
Cons
Controls are slightly sensitive
How Does a Plug-in Induction Hob Work?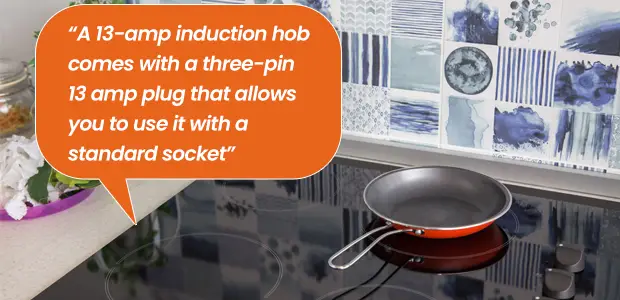 A 13-amp induction hob comes with a three-pin 13 amp plug that allows you to use it with a standard socket, this means there's no need to have an electrician install it like other types of electrical hobs.
Unlike electric and ceramic cookers that use electrical heating elements and thermal conduction, respectively, induction hobs produce heat for your pans using electrical induction. Usually, the heat uniformly spreads within the pan, making cooking faster and more efficient.
The best pans to use on an induction hob should contain ferrous metals such as stainless steel or cast iron. You can only use aluminium and copper pans on an induction hob if they have a magnetic base.
---
Choosing the Best 13-Amp Induction Hob
---
Here are a few essential features you should consider when choosing a plug-in induction hob:
Number of Cooking Zones and Size
Most induction hobs, both standard and plug-in models come with 4 cooking zones as standard. There are 5 zone induction hobs available, but keep in mind that these are normally larger and require more counter-top space.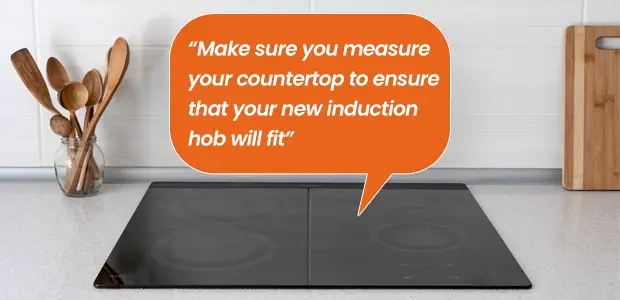 Make sure you measure your countertop to ensure that your new induction hob will fit, some standard sizes are 60cm, 70cm, 75cm and 90cm.
Automatic Switch-Off
Some of the best induction hobs have the capability of automatically switching off when the cooking zones are empty or when there's overheating. This feature makes your 13-amp induction hob more energy-conserving and helps to reduce costs.
Safety Detectors
This feature also contributes to your hob's power conservation. Hobs with safety detectors check and regulate the power output based on the temperature at the base of the cooking pans.
Child Lock
The child lock feature allows you to use your induction hob around kids without fear of them getting scorched by the hob. This feature disables the hob's controls and knobs to prevent kids from messing with them.
Overflow Protection
Sometimes, spills are unavoidable when cooking. However, when you choose an induction hob with an overflow protection feature, you can protect your hob's surface and pans from damage caused by spills.
The overflow protection feature shuts down the hob immediately when it detects excessive spillage on the cooktop. Some hobs also have a beep alert to notify you of any overspill.
---
13-Amp induction Hob Pros
---
Easy Installation
Installation is quick and easy with a 13 amp induction hob. You simply plug it into your home's standard electricity circuit like any other appliance.
It can be fitted into a space in your worktop or stand independently on the surface. The hob usually includes special clips to safely secure it.
Save on Professional Installation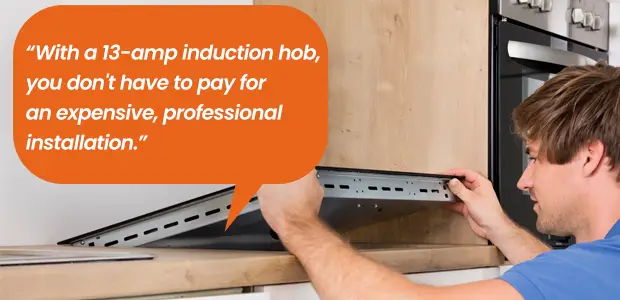 Purchasing a more powerful, 4 kW induction hob requires specialised hardwiring. It's essential to provide a greater electrical load to the appliance.
But with a 13 amp induction hob, you don't have to pay for an expensive, professional installation.
Portable
The design of this type of induction hob makes it portable. It's ideal if you ever want to change the location of the hob in your kitchen without any disruption. It can also be used in another room during a kitchen refurbishment. You can even take the hob to a holiday home!
Versatile Performance
You'll often find exciting features such as an extended cooking zone. This allows you to use two burners in conjunction for cooking with a long pan such as a fish kettle. Many plug-in hobs have child safety locks, adjustable heat control, touch screen operation and an automatic shut down.
---
13-Amp induction Hob Cons
---
Less Powerful
An induction hob with a 13 amp plug usually runs on 3kW, unlike a fully installed version that uses 4kW. It means your hob won't be as powerful.
When you use more than two burners simultaneously, the available power is often redistributed amongst the cooking zones. The result may be comparatively slower cooking speeds and lower temperatures.
Check Cable Length
The cable on a plug-in induction hob usually has a length of one or two metres. Although this should normally be adequate, you might not be able to place the hob in your preferred location due to your kitchen not having a suitable power point.
---
Plug-in Induction Hob FAQs
---
Is a 13-amp Induction Hob Worth it?
Yes. Generally, 13-amp induction hobs are compact, energy-saving, and do not require any particular installation from a professional. You can plug them directly into your standard 13-amp socket, and you're good to go.
Can a 13-amp induction hob be converted to hardwire?
Yes! Most 13 amp plug-in induction hobs can be converted to hardwire by an electrician.
Are there fewer features on a 13-amp induction hob?
13-amp induction hobs are usually packed with a range of very useful features. Power boost is a very popular function.
It provides a burst of additional power for techniques such as stir-frying. This compensates for the lower overall capacity of 3kW compared to the stronger power of a 4kW induction hob.
Does a plug-in induction hob still offer the same electromagnetic system?
Yes! The electromagnetic field is beneath the glass surface exactly like a fully installed model. You can still cook food the same through the heat only affecting the food and not the entire hob.
How safe is the surface of a plug-in induction hob?
The ceramic glass surface stays cool so you shouldn't burn your fingers. Many people choose an induction hob because cooking with electromagnetics only heats the area where a pan is in place.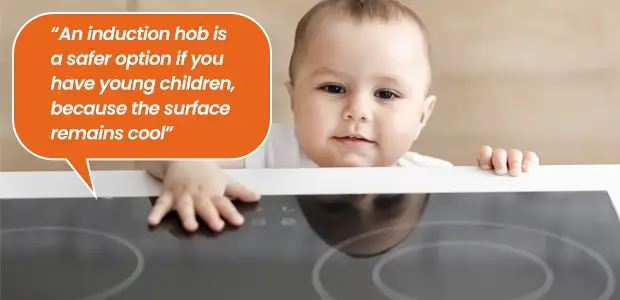 Remove the pan and the electromagnetic procedure stops just like in a fully installed hob. Your pans must be made of magnetised metal or at least have a layered base that's suitable for induction cooking.
How can I Clean My 13-amp Induction Hob?
Cleaning an induction hob is pretty straightforward. First, you'll need to switch off and unplug the hob.
Wipe the hob surface with a non-abrasive cleaner or a soft, damp cloth. It's best not to use paper towels when cleaning your induction hob as they can scratch the ceramic glass.
It is advisable to clean your induction hobs as regularly as possible, especially when liquid, fat, or dust spills are on them. These elements become increasingly difficult to remove if you allow them to harden.
How long will a 13-amp induction hob last?
You have to consider that every plug-in appliance depends on high-quality manufacturing. Lifespans can vary, but on balance, an induction hob with a 13 amp plug is much less expensive than a fully installed hob. It doesn't involve installation costs either.
Summing up
Adding a 13-amp induction hob will undoubtedly add a touch of class to any kitchen, and it will save time and money in the long run.