Below you'll find our roundup of some of the best 2 zone induction hobs available in the UK in 2022. We've included both hardwire and plug-in versions to ensure you find the right one for your kitchen.
A 2 zone induction hob uses energy-efficient electromagnetic circuitry for fast, versatile cooking. Whether you choose a hardwired or portable plug-in induction hob, you'll find it perfect for any kitchen, outdoor summer house or even a holiday home.
The domino design means it's a slim, 30cm induction hob with an elegant, black ceramic glass surface that's perfect for kitchens with limited countertop space.
[lwptoc min="1″ depth="1″]
What to Look for in a 2 Zone Induction Hob
Power boost – Achieves maximum temperature almost instantly
Bridging feature – Turns two separate cooking zones into one big one
Automatic shut off – Turns the hob off if no pans are detected
Residual heat indicator – Tells you when the hob's safe to touch
Child lock – This allows you to lock the hob when not in use
Best 2 Zone Induction Hobs UK 2022
---
1. Singlehomie IXFD005 2 Zone Induction Hob
---
The ceramic glass surface provides convenient cooking zones for two pans at once. Alternatively, convert them into one large area for barbecue-style grilling.
Superfast power boost gets meals off to a fine start. There are nine heat settings and touch screen controls. Left unattended, this domino induction hob automatically turns off for safety.
Pros
Power boost
Flexible cooking zones
Safe, automatic shut down
Touch-slide control
Child safety lock
Cons
Control panel sometimes difficult to see
---
2. Noxton ITS644B1/B 30cm Induction Hob
---
Hardwired domino induction hob. Versatile and easy to use for everyday cooking. The small zone is 1500W, larger zone reaches a powerful 2000W.
Nine heat settings from simmer to fast boil. Instant power boost for speedier meal preparation. Includes a timer, auto shut down feature, safety lock and residual heat indicator.
Pros
Powerful 2000W
Additional power boost
Residual heat indicator
Touch screen control
99-minute timer
Cons
Hob sometimes feels warm
Control panel small
---
3. SIA INDH30BL Domino Induction Hob
---
Fast, energy-efficient cooking with this contemporary two-zone induction hob. One small, one large ring to suit different pans.
Economical low temperature settings. Residual heat monitor, childproof lock and automatic shut off for safety in any kitchen. Elegant styling with tapered corners, rimless edges and shiny ceramic glass.
Pros
Excellent safety features
Powerful heat boost
Low temperatures from 140W
Elegant, easy clean styling
Touch screen control
Cons
---
4. Gionien GIT230SP 2 Zone Induction Hob
---
This 2 zone induction hob is a plug-in version that does not require professional installation. It's portable, versatile and convenient.
Cooking zones with 1200W and 2000W, increase with Power Boost to 1500W and 2300W. Easy fingertip slider control and 99-minute timer. Safety features include childproof lock and auto shut off.
Pros
Simply plug in and use!
Versatile heat settings
Power boost
Residual heat indicator
Easy to clean
Cons
Fan sometimes noisy
Cable short
Are 2 Zone Induction Hobs Worth it?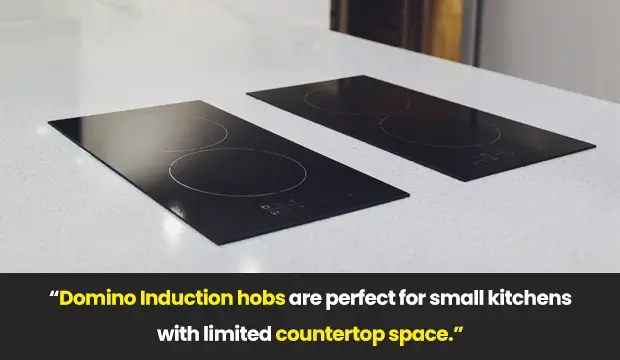 Versatile – Although a domino-style induction hob is only 30 centimetres in width, it's extremely versatile. It's ideal if your kitchen is small or part of an open-plan studio flat. It can also be used in a shed, summer house or a caravan. Domino induction hobs are useful in spacious kitchens that cater for large families. Some people use a 2-zone to supplement a standard 4-zone, giving them six versatile burners.
Any location – When your kitchen's out of action, a 2 zone induction hob that plugs in can easily be used in another room. If you're converting the loft or a garage into a small flat for a relative, a 2 zone induction hob is easy to accommodate in any restricted space.
Easy to use – Domino induction hobs usually have simplified controls. You'll often find touch screen buttons or sliders for adjusting the heat settings. Induction cooking heats only the pan, making the surface a safe option for people of any age.
Great features – Just because domino hobs are compact, they're not short of essential facilities. Power boost is a helpful accessory that speeds up your cooking time even though induction hobs are already much faster when compared to other forms of cooking. A two-in-one bridging zone is useful for barbecue style meals either indoors or outside.
2 Zone Induction Hob FAQ
Can a domino induction hob stir-fry at high temperatures?
Yes, it should deliver all the heat you need. Most domino hobs have one burner at a hot 2000W. With a Power Boost facility, you get additional heat virtually as soon as you've selected it.
Does an induction hob with Power Boost waste energy?
No, it's designed to save time waiting for a lower setting to heat to the right temperature. In effect, this fast feature saves energy.
Why have a residual heat indicator when induction hobs are supposed to stay cool?
Induction hobs do stay cool, but there is often a slight warmth left where a pan has been. On a small appliance, this sometimes appears more noticeable. The indicator is an additional safety measure.
Will I need a new set of magnetised pans for my 30cm induction hob?
You can test your existing cookware's suitability by holding a magnet to the base of each pan. If the attraction's strong, it means the pan contains ferrous metal or steel in the base. If the magnet won't stick, you'll need to replace them. Many pans nowadays are multipurpose with layered steel bases.
How do I clean the surface of an induction hob with 2 zones?
The cool surface of an induction hob should prevent food debris from becoming hard and burnt. Some models include a rubber spatula to scoop debris away. Wait until the hob is completely cold. Wipe with a damp cloth before polishing with a soft, dry, cotton cloth.
Conclusion
A 2 zone induction hob is versatile for any kitchen. It's energy-efficient, the electromagnetic operation should make it an economical choice.
Hardwired or plug-in, it's an easy to use appliance, adding style and practicality when cooking nutritious meals.