When space is at a premium, installing an induction hob above a cutlery drawer could be a necessity rather than a choice.
The majority of homes don't have the luxury of massive kitchens combined with additional utility areas. All types of appliances and storage units have to be crammed in to make the best use of the available space.
Positioning your induction hob above a cutlery drawer could be your only option, but can it be done?
Can You Install an Induction Hob above a Cutlery Drawer?
Yes. However, the base of the induction hob can become very hot. You'll need to include a separator plate. You might also have problems regarding ventilation and clearance. Flammable items such as tea towels or kitchen paper should not be stored in the drawer.
Keep in Mind
When you have to position your induction hob above a drawer or cabinet, it requires special attention during the installation. The induction hob uses an electromagnetic system to provide heat for cooking.
The mechanism enables the ceramic glass of your induction hob to stay remarkably cool when it's in use. You'll often find there's only a mild warmth where a pan has been actively cooking.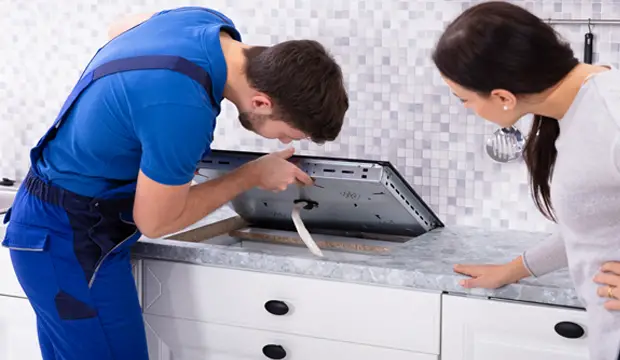 However, the electromagnetic circuitry still generates heat while it's operating. This surplus heat has to go somewhere. It's designed to go downwards in order to keep the hob cool. However, in the process, it makes the base of your hob hot, and it's usually enough to give you a painful burn.
This is a particular concern when installing your induction hob above a drawer or cupboard that's in use. You can easily keep safe by fitting a separator plate below the hob's base and above the drawer.
A separator plate or panel is more than just a sheet of metal. The panel is manufactured to be heat-resistant, ensuring you don't get burned. The separator panel usually has a depth of two or three centimetres and a pre-formed shape with slots cut out for ventilation. However, the edges can be trimmed to ensure a perfect fit when it's being installed.
The separator plate also keeps the wiring of the interior safely concealed. It isn't usually supplied as a standard feature when you purchase your induction hob. It's due to some induction hobs being fitted on top of an oven. They may also be installed above a sealed unit or false drawer where the base is safely hidden.
Tips and Considerations for Installing an Induction Hob above a Cutlery Drawer
Fit a Separator Plate – In the interests of safety, nearly every induction hob suggests fitting a separator plate. It sits directly beneath the hob and literally separates the red-hot base from the the cabinet or drawer.
Clearance – Most induction hobs need a space of at least 500 millimetres before the next object is reached. The measurement could vary depending on the individual manufacturer's guidelines. However, your fully-qualified installer should have expert knowledge on the safety regulations.
Ventilation – Surplus heat needs to be safely controlled through adequate ventilation. When your induction hob sits above a drawer, it will need a space of at least 20 millimetres at the sides, from the drawer to the nearest cupboard or wall.
Installing an Induction Hob above Cutlery Drawer – Pros and Cons
Pros
Essential Storage – When you protect the base of your induction hob with a separator plate, you retain useful storage spaces. Saucepans, crockery and of course, cutlery, are easy to reach when you're near the hob. Small kitchens in particular need all the storage they can get.
Convenient Location – Cooking on your induction hob is even more enjoyable when all the utensils you might need are so close at hand. When spoons, forks and knives are just below the hob, it saves you time and effort pacing back and forth to alternative drawers and cupboards.
Ideal Storage – Without a separator plate, the wires of your induction hob are exposed. With a separator plate, you can happily use the drawer for cutlery as the utensils can't become entangled in the wiring.
Safety – The cutlery drawer is safe to use once you have a full installation that includes a separator plate. It keeps you safe from electric shocks and burns.
Cons
Drawer Material – What the drawer is made from can make a difference when placing an induction hob above it. Solid timber responds to moisture and temperature. Humid conditions cause the drawer to expand, often making it difficult to open. The timber contracts when the temperature is warm and dry. This can make it appear loose. A drawer made of veneered fibreboard or plywood doesn't fluctuate in the same way, and is usually fairly stable.
Selective Storage – Avoid replacing your cutlery with alternative items such as biscuits, tea towels or paper goods. There will still be warmth around the hob that can spoil food directly stored beneath it. Paper or cloth is always best stored well away from a heat source.
Conclusion
A brand-new induction hob should make your kitchen look amazing. It will also provide instant, controllable cooking temperatures that are energy-efficient. Small kitchens in particular benefit from being able to use every inch of storage space.
Being able to use an induction hob above a cutlery drawer is convenient and useful. However, remember that it's only thanks to the separator plate that it's possible to make full use of the drawer.