"Do you need an extractor fan with an induction hob?" is a common question we get here at hobguide.
An extractor fan can be used with any hob, but the legislation regarding induction hobs doesn't always appear immediately conclusive.
Do You Need an Extractor Fan with an Induction Hob?
No, you're not legally obliged to purchase an extractor fan with your induction hob. In itself, the fan is regarded as an optional extra. However, depending on how your kitchen is arranged, you could be required by law to install one.
Are Extractor Fans Required by Law?
Legislation for extractor fans with induction hobs is surprisingly inconsistent. When you install an induction hob, there's no legal obligation to fit an extractor fan unless your circumstances deem it necessary. They include:
Your kitchen already has an extractor fan
Your home was built later than 2006
Your kitchen has been refurbished since 2006
It can seem easier to base your decision on how useful an extractor fan might be. It generally works through a fan drawing in air from around the hob. In the process, it takes in steam, heat and odours. The extractor fan then expels the air through a pipe or duct to the exterior of your home.
If you don't have an extractor fan, it's advisable to open a window while cooking for the steam to escape. The fan helps prevent mould and damp patches forming in your kitchen. However, one reason why some people prefer not to have an extractor fan is the noise.
Do Induction Hobs come with Extractor Fans?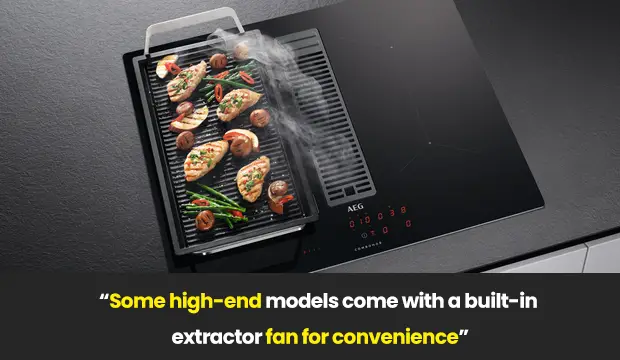 The majority of induction hobs are manufactured without an integrated extractor fan. However, you can find a range of induction hobs with built-in extractor fan as a standard feature.
Typically, these models will usually cost slightly more. If you choose to install a separate extractor fan in your kitchen, there are several basic designs:
Ceiling Mounted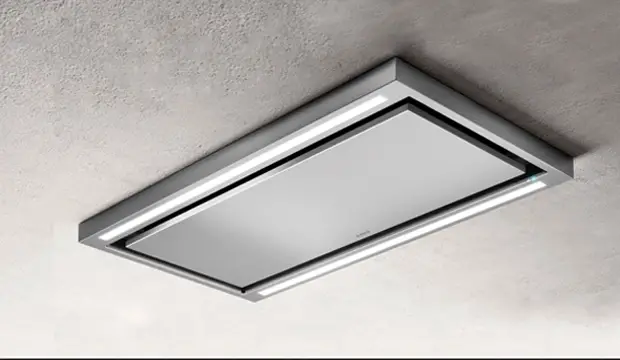 It's usually fitted in the ceiling near to your hob. Steam is drawn into the fan's outlet pipe. This has to be hidden in the ceiling and leads to an exterior wall.
If your kitchen has a high ceiling, the distance between the hob and the fan often makes it less effective.
Wall Mounted
The extractor fan is fitted in the wall instead of the ceiling. It requires less work during installation as the outlet pipe leads directly to the outside.
Pendant
This large extractor fan or cooker hood is suspended from the ceiling and positioned above the hob. The outlet pipe leads from the fan, up into the ceiling and out to the exterior wall.
It's generally effective, but it can dominate a workspace, particularly if your hob is in an island unit.
Downdraft Extractor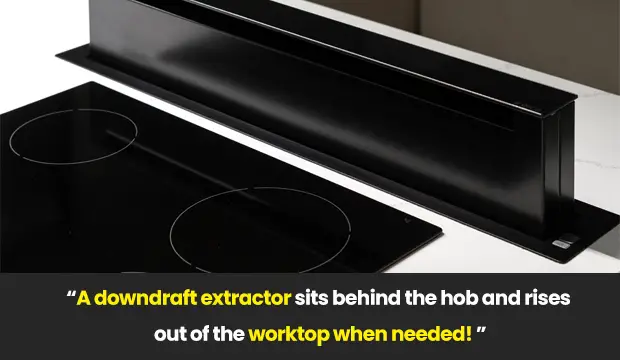 A downdraft extractor usually sits behind the induction hob. It's normally built into the countertop and rises up when the induction hob is in use.
Integrated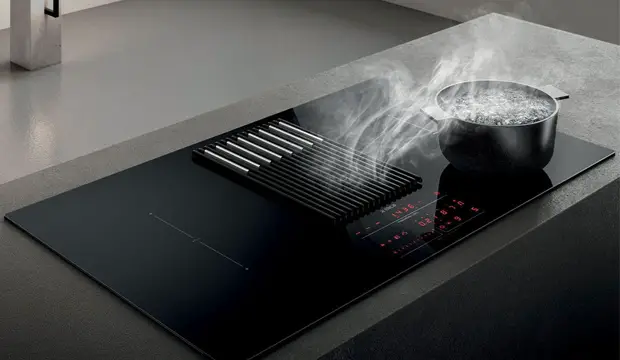 An in-built extractor fan resembles a long, narrow grille. It fits neatly across the centre of the ceramic glass or at the side/top of the hob. The fan draws steam into a concealed pipe below the glass surface and leads to an outside wall or it cleans the air and recirculates it back into the kitchen.
When fitted into an island unit, the pipe needs to run below the floor to reach the exterior wall. It's often disruptive work that is best carried out during a kitchen refurbishment.
Are Induction Hobs with Integrated Extractor Fans Worth it?
An integral extractor fan is usually the most effective design. It's positioned directly amongst the burners where it traps and removes steam as soon as it leaves the pans. The fan is small and discreet and won't block your view, particularly on an island worktop.
Installing an induction hob with extractor can be disruptive, but it's ideal during renovation work. The end result can be stylish, streamlined and highly effective steam removal.
Conclusion
Do you need an extractor fan with an induction hob? Although you don't usually have to install an extractor fan with an induction hob, it can be useful in eliminating mould and dampness.
If you can withstand the installation, it could be worthwhile as an integrated induction hob extractor fan is compact, unobtrusive and highly effective.