A portable induction hob is perfect for providing an extra burner when hosting a dinner party or a camping trip, it can even be used as your main hob if your cooking needs aren't that demanding.
At the moment, there are quite a few different models to choose from, but before we get into our picks for the top 3 best portable induction hobs, here's a quick look at some of the key features you should look for when buying a portable induction hob.
What to Look for When Buying a Portable Induction Hob
Adjustable Power and Temperature Control – Precision heat control from simmering to searing.
Auto Shut Down – Safely turns hob off when a pan isn't on the burner or cooking time has exceeded.
Overheat Protection – Safeguarding against excessive heat extends the life of the hob.
Programmable Timer – Cooks food without you having to constantly monitor what's happening.
Safety Lock – Prevents children from accidentally turning the hob on.
Best Portable Induction Hobs
---
1. AMZCHEF Portable Induction Hob with Single Burner
---
This compact single burner induction hob weighs 2.56 kilograms (5.64 pounds). The hob has a sleek appearance with a black, crystallised glass finish and slim construction.
It offers a wide range of temperature settings from 60°C to 240°C (140°F to 464°F) operated through the easy-to-operate touchpad controls.
There's an overheat protection facility and when a pan isn't detected, it automatically turns off after thirty seconds. The hob is also fitted with a child safety lock for additional peace of mind.
---
---
The Sunavo portable induction hob has fifteen heat settings for precise control over cooking techniques.
You'll find the touch-sensitive control pad very easy and intuitive to use, and the easy-to-use safety only takes one to three seconds to operate.  There's even an automatic shut down feature that kicks in after thirty seconds if a pan isn't in use.
With a steel alloy casing and a weight of only 2.36 kilograms (5.19 pounds), the hob is surprisingly strong and resilient. The attractive, smooth black surface is also very easy to wipe clean.
---
3. VonShef Portable Induction Hob with Single Burner
---
You can easily control the ten heat settings of this portable hob through the touch-sensitive pad. The hob measures 36.8 cm by 28.8 cm (14.49″ by 11.34″) and it weighs only 3.60 kilograms (7.94 pounds).
The sturdy construction makes it one of the best portable induction hob for camping or bedsits. The hob looks very stylish with a ceramic glass surface that's very easy to clean.
It also includes an easy to use programmable timer and an illuminated LED display.
---
Portable Induction Hob Buyer's Guide
---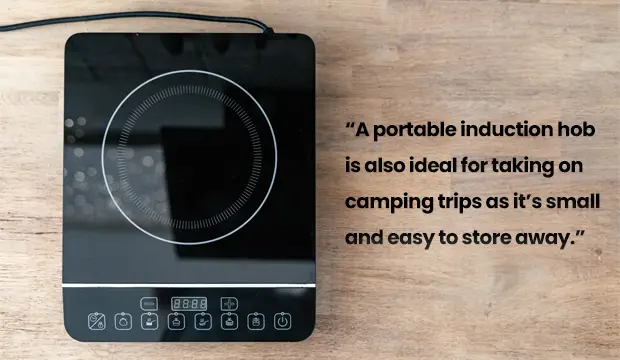 A single burner induction hob that's easily portable is a versatile addition to any home. It's very convenient to use near your dining table when heating sauces for a family meal or entertaining.
In the kitchen, you can use it for cooking small portions of ingredients or as a reserve unit if your main hob is being used at full capacity.
Many people who live on their own find a portable hob is adequate for their needs. It can also be used in your bedroom for making an early morning cup of coffee.
A portable induction hob is also ideal for taking on camping trips as it's small and easy to store away.
How does a Portable Induction Hob Work?
An induction hob uses an electromagnetic field to create heat. This consists of complex electronics and a large flat disc of coiled copper wire which actually forms the burner.
The heat is then transferred to the pan without heating the entire surface of the ceramic glass. However, to engage with the heat, your pans must contain a certain amount of ferrous metal.
Magnetic Pans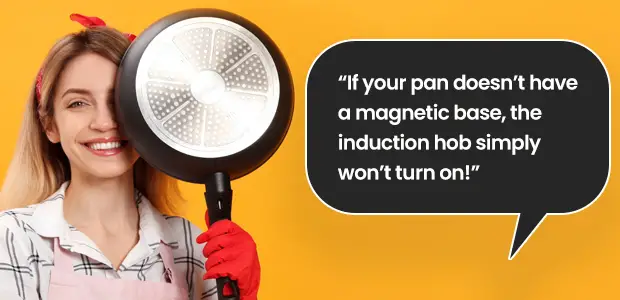 Pans can be made of aluminium providing they have a solid layer of carbon steel at the base. Stainless steel pans with a high proportion of magnetic nickel are also suitable. It helps maintain a reliable connection if your pans are heavy.
Enamelled cast iron pans are usually regarded as the best cookware for an induction hob.
Pacemaker Warning
Anyone who has a pacemaker should seek medical advice before using an electromagnetic induction hob due to the interference it produces.
However, a single burner induction hob has a much smaller electromagnetic field than a full-sized version.
The amount of radiation can also be reduced if your pan matches the burner size.
Is the Weight of a Portable Hob Important?
A major advantage of a portable induction hob is that it is easy to carry. It's convenient for moving to another part of your kitchen or even to a different room.
However, when choosing a high-quality, single burner induction hob, solid construction is important. It helps the hob last long if it is manufactured to high standards and is resilient to regular use.
Steel is a sturdier option than heavy-duty plastic as well as being recyclable and environmentally friendly. Look for a metal hob with a weight of at least 2.27 kilograms (5.0 pounds). However, if the hob is for someone elderly, it may be best if the weight is around 2.5 kilograms (5.5 pounds) or less.
Safety Features
Portable induction hobs with a single burner usually include several safety features. To begin with, one of the integral benefits of an induction hob is that the electromagnetics can't work unless there's a magnetised pan in place.
But one of the most common safety features is the automatic shutdown. The time limit is often between thirty and sixty seconds whenever a pan is not in place.
Child Safety Lock
If you have young children they'll often be curious about an appliance, especially if it has illuminated controls. Using an induction hob is much safer than gas or electric as it only produces heat when there's a magnetised pan in place.
The ceramic glass surface also stays cool to the touch as any heat is restricted to the pan itself. However, a safety lock provides additional peace of mind. It's usually easy to operate by simply pressing a key on the touchpad to activate and release it.
Is the Ceramic Glass of a Portable Hob Shatterproof?
The smoky, dark glass used for portable induction hobs is manufactured to high safety standards. It's usually shatterproof, but it can be susceptible to cracking if you treat it carelessly.
Always move and position a pan lightly and without scraping it across the surface. If the glass ever cracks, it's not advisable to continue using your portable hob as water can trickle inside and cause a potentially fatal electric shock.
Temperature and Heat Range
Most portable induction hobs usually operate at a maximum of 2000W. This provides an adequate supply of sustained power to operate the electromagnetics. The highest temperature setting of an induction hob usually reaches around 240°C (464°F).
Variable Temperature Settings
The more settings, the more control you'll gain over different culinary techniques. Simmering requires gentle heat while stir-frying needs maximum power.
If a portable hob has only five temperature settings, you may be limited with how precisely you can cook food. Look for at least ten temperature settings to ensure full control.
Automatic Timer
Most high-quality, portable induction hobs feature a timer. It's a useful accessory that helps you keep track of how long ingredients have been cooking.
---
Portable Induction Hob FAQ
---
1. Does a portable hob have a maximum running time before it overheats?
Most portable induction hobs usually perform well for at least two hours each time you use them. Some professional models can provide almost 100 hours of continuous use before they begin overheating. A hob with heat protection saves your hob from any ill effects of extended use.
2. How quickly does a portable induction hob heat up?
Induction cooking is much faster than any other method, so your food should begin cooking in no time. If you've never used an induction hob before we would advise starting with the lowest setting to prevent accidentally burning food.
3. What should I use to clean the ceramic glass of a portable hob?
A small, single burner hob needs to be treated respectfully to maintain its stylish appearance. Avoid using paper towels to clear away spillages as they contain rough wood pulp fibres that cause scratches. Choose absorbent cloths made of cotton.
4. Where is it best position for a portable induction hob?
For safety, always keep it well away from the edge of kitchen counters. The cable should also be positioned further back where it can't be accidentally pulled.
Position the hob away from overhanging cupboards where excess steam may collect and drip back into the pan.
Conclusion
A single burner induction hob is potentially a very useful appliance. For busy family gatherings you can use it as a supplement to an existing, full-sized hob. It can also be used as your one and only main hob, making it a good choice for light use or small kitchens.
The best portable induction hob has a weight you find comfortable and a wide range of versatile temperature settings. Safety features such as automatic shut off and overheat prevention help to prolong the life of your hob.
A safety lock may be important if you have toddlers running about and a timer will definitely be useful if you are often distracted by other chores while cooking.
If you are contemplating installing your first large induction hob, you may be unsure how you'll adapt to the electromagnetic cooking method. But purchasing a small, portable version provides you with everything you need. You can learn how induction hobs work before committing to the expense of a static model.