If you're trying to create a modern and minimalistic look in your kitchen, an induction hob with extractor (like the ones listed below) will fit perfectly into that type of setup.
While they are a bit more expensive than their standard counterparts, these venting induction hobs have their own integrated extraction, so there's no need for any additional space for a cooker hood or any other type of extraction.
What to Look for in an Induction Hob with Built-In Extractor
Quiet fan – Maximum fan speeds with low decibel ratings
Standard and intensive extraction settings – versatile, powerful steam removal
Washable grille, filters – Effective, easy maintenance
'A' rated airflow – Effective steam and fume removal
Black grille – Blends seamlessly with ceramic glass
---
Best Induction Hobs with Built-in Extractor
---
1. Cookology 70 cm Induction Hob with Built-in Downdraft Extractor Fan
---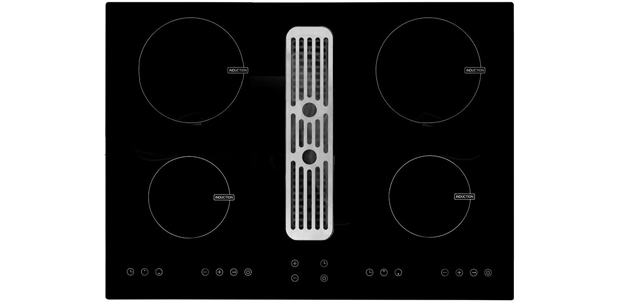 The integrated extractor on this Cookology induction hob is more versatile than you'd imagine. It's supplied with a narrow, stainless steel extractor grille running through the centre of the hob's ceramic glass. If you'd prefer it to match, then voila! Simply fit the alternative black cover on the top and you'll hardly notice it's there.
There's also the option of using the grille as a recirculating downdraft extractor through a carbon filter, or as a ducting version by connecting a two-metre pipe to an outdoor vent. There's a slide-out drawer for easy grease removal. The performance of the extractor is impressive. Three speed levels operate at a maximum of 504 cubic metres per hour. When in use, the grille's timer provides an additional five minutes of steam extraction.
The four-zone hob has two burners at 2.5kW and two at 1.5 kW. Each one has a convenient ninety-nine-minute timer. The pan detection feature ensures the burners only operate when a pan is in place and can't be activated accidentally. The hob's touch screen panel also includes a child safety lock for additional peace of mind.
Pros
Additional black cover for the grille
Recirculating or ducted operation
Three extractor speeds
Slide-out grease drawer
Cons
Extractor fairly noisy
Carbon filter must be purchased separately
---
2. Smeg HOBD482D 83 cm Air Venting Induction Hob
---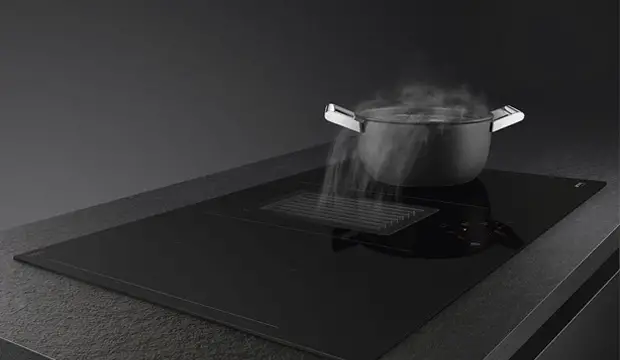 The stainless steel extractor grille sits in the centre of the ceramic glass. It's relatively wide and short compared to other induction hobs with integrated extractors. However, it more than makes up for its size with a range of powerful extraction settings. There are eight standard speeds and two that provide intensive suction when your pans are working overtime.
The standard extraction rate reaches a maximum of 500 cubic metres an hour accompanied by a noise level of 65 decibels. When you need high-powered steam removal, the intensive setting is an impressive 700 cubic metres an hour. The system also includes a stainless steel grease filter and carbon filters. Essential recirculating and ducting pipes are also included.
The Smeg induction hob with built-in extractor has four burners rated at 2.1 kW each. A booster facility increases their capability to 3.0 kW. Each pair of burners on the left and right can be combined to create two large cooking zones that are ideal when using extra-long pans. Eleven temperature settings including one designed for gently melting ingredients such as butter, there's even a quick-start feature to ensure no time's wasted.
Pros
Eight standard extraction speeds
Two intensive speeds
Grease and carbon filters supplied
Two extra-large cooking zones
Cons
Large 83 cm width
Hob cannot be fitted above an oven
---
3. Faber GALILEO SMART BK 83cm Air Venting Induction Hob
---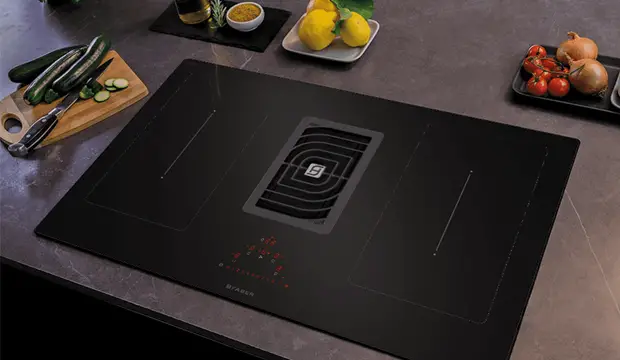 The Galileo is smart enough to automatically turn its extractor on as soon as it detects steam around pans. Six settings self-adjust to the intensity of the steam and smoke. They include four standard settings of up to 505 cubic metres per hour and two for intensive extraction at 700 cubic metres an hour. The fan's noise levels are 62 decibels and 72 decibels respectively. The black, cast-iron grille is aesthetically pleasing.
The extractor can be installed as either a recirculating or ducted version. It's a versatile choice when positioning the hob in an island unit. The extractor mechanism is remarkably compact enabling the hob to be positioned above a drawer. Grease filters are supplied in the form of cassettes that can be placed in the dishwasher. You don't have to worry about spillages as the extractor's motor is also waterproof.
Each burner has nine adjustable heat settings. They also include a convenient booster for rapidly increasing the temperature when you want to sear meat or stir-fry. The burners on each side can be operated in pairs to form two extra-large cooking zones when cooking whole fish or generous fry ups. Additional features include a timer and safety lock.
Pros
Choose recirculating or ducted extraction
Automatic extraction settings
The space-saving unit fits above drawers
Flexible, multi-purpose cooking zones
Cons
Hob needs a spacious worktop
Extractor is fairly loud
---
4. AEG IDE74243IB 72 cm Recirculating Air Venting Induction Hob
---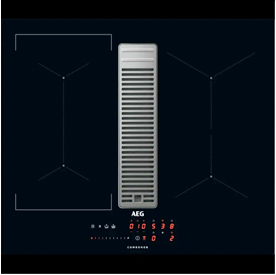 This AEG induction hob looks stylish with its slimline extractor. It's an aluminium mesh grille that runs across the centre from front to back. The extractor's automatic settings adjust to the burners' heat levels.
The extractor's standard speeds operate at between 150 and 365 cubic metres per hour, while the intensive rates reach 515 cubic metres an hour.
They might not appear to be as powerful when compared to some models, but they offer a more gentle form of steam removal.
The extractor's noise levels are much kinder compared to other integrated induction hobs. When running on standard settings, the fan reaches just 46 decibels. During intensive operation, its maximum is 62 decibels. The extractor comes equipped with a removable grease filter and separate charcoal filter. The control panel has useful indicator lights that let you know when each filter needs attention. The extractor can only be used as a recirculating version.
The four burners provide a complete range of power. One is rated at 1200 kW, another at 1600 kW, while the two strongest are 2100 kW and 2300 kW. Each burner has a booster facility giving additional cooking power of up to 3000 kW. You can use the bridge control to turn each pair of burners into large cooking zones for even greater versatility. The hob also includes a fast heat-up option, safety lock and automatic shut down.
Pros
Grease and carbon filter units are completely removable
Gentle extraction speeds, quieter operation
73 cm width ideal for small kitchens
Flexible, large cooking zones
Cons
Recirculating extraction only
Extractor less powerful
---
5. Elica NIKOLA TESLA PRIME DO 83 cm Ducted Air Vent Induction Hob
---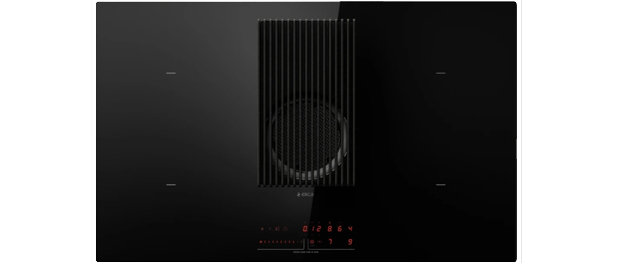 The centralised, extractor grille has a wide, but compact shape, ensuring the unit is within easy reach of the four burners. The cast-iron grille has a smart black finish that perfectly complements the stylish, dark glass of the stovetop.
The mechanism has intuitive capabilities that help match the extractor's speed level to the amount of steam or smoke produced while you cook. The extractor operates with three standard speed settings. There are also two intensive speeds that can effectively deal with the most hectic cooking sessions.
At its maximum strength, the extractor reaches a powerful 610 cubic metres per hour. Remarkably, the maximum noise level it produces is just 66 decibels. The grille and grease filter are removable and can be placed in a dishwasher for easy and effective maintenance. The airflow of the unit and the overall energy efficiency of the induction hob are both 'A' rated.
The hob is manufactured in Italy. It includes two large burners and two zones with smaller diameters. Each burner has nine heat settings operated through a fast and easy slider control. A boost facility turns the heat up for fast results when stir-frying or searing.
The hob includes a pan detection facility to prevent accidental activation if magnetised utensils are left near the hob. Other features include keep warm, automatic shut down and a safety lock.
Pros
Removable, washable grease filter and extractor grille
Powerful maximum extraction
Quiet operation
Ducted version for maximum efficiency
Cons
83 cm width requires a large worktop
No large bridge zones
Unsuitable above oven
Do You need an Extractor with Induction Hob?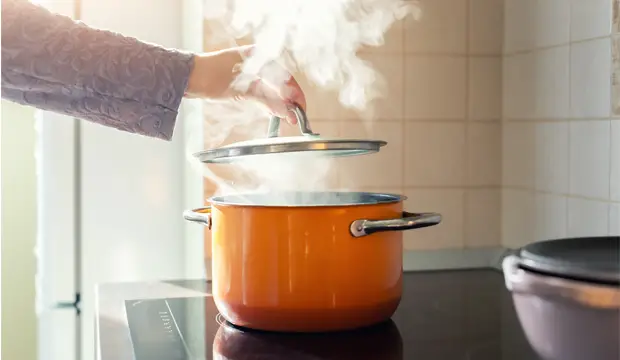 There are certain legal requirements regarding the use of an extractor with an induction hob. Even if you're not obliged to install an extractor fan, it is a very useful addition to your kitchen. It prevents mould and dampness and removes unwanted aromas left over from cooking.
An induction hob and extractor in one is a streamlined version that avoids unsightly cooker hoods or ceiling fans. An inbuilt extractor is also much more effective at removing steam at the source instead of relying on a fan that's often positioned at some distance
How does Induction Hob with Integrated Extractor Work?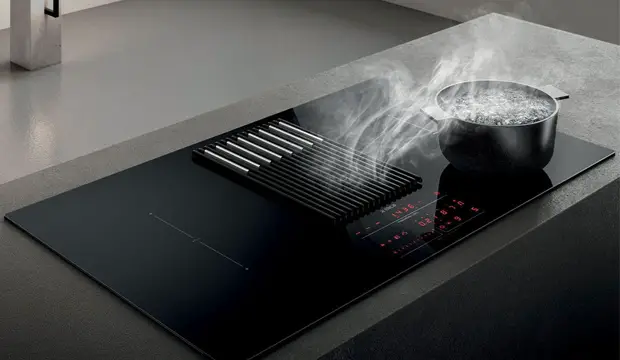 As ingredients cook, the pan releases steam, aromas and tiny particles of grease into the air. Without an extractor fan, everything drifts through your kitchen and sticks to the walls and cupboards. An in-built extractor uses a fan to draw in this greasy moisture before it has a chance to escape any further than the pan.
Inside the extractor, the steam passes through carbon filters that effectively remove fumes and moisture. Grease is propelled into a trap or filter. The resulting clean air is then released back into your kitchen or directed to the outside via a duct. However, there are distinct differences between the two methods.
Recirculating vs Ducted Air Venting Induction Hob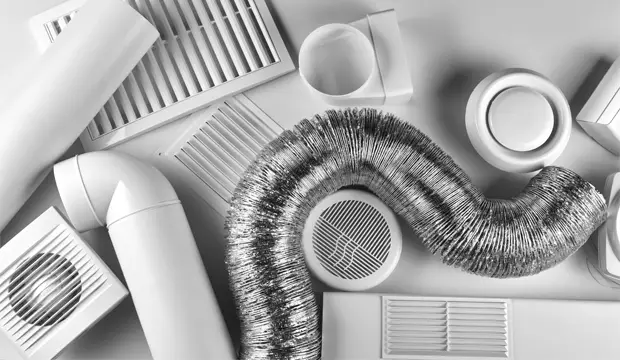 A recirculating extractor has to rely entirely on the filters inside the mechanism to purify the air. Once they have completed their task, the clean air is sent directly back to your kitchen. The effectiveness of the system is largely influenced by how clean the carbon filters might be. If you're cooking a particularly heavy load of ingredients or forgotten to clean the filters, the system won't always be as efficient as it could be.
A ducted extractor usually has a more powerful effect on greasy steam. It draws in the moisture and passes it through carbon filters to remove grease in much the same way as the recirculating method. However, instead of sending the air back into the kitchen, it propels it down a duct which leads to the outside of your home. It's often regarded as the most highly effective method as it completely removes stale, greasy air from around your induction hob.
Your choice could be limited by the arrangement of your kitchen worktops. If you want your hob in an island unit, a ducted version usually requires extensive pipework to reach an exterior wall. A recirculating induction hob is easier to accommodate in such a location and doesn't require the additional expensive pipework during installation.
What is the Best Induction Hob with Built-In Extractor?
Our choice for the best induction hob with built-in extractor is the Elica NikolaTesla venting induction hob. This particular hob has multiple speed settings that removes steam at a powerful 610 cubic metres per hour. Best of all, the fan is one of the quietest, producing a decibel rating of just 66 decibels. The grille is made of durable, black cast iron that teams beautifully with the ceramic glass of the induction hob.
If you are limited by your budget, an excellent alternative could be the Cookology induction hob with downdraft extractor. It comes with a stainless steel grille and a black cover if you want to make the extractor blend in with the hob's ceramic glass. The extractor offers you the choice of recirculating or ducted steam removal. There are three powerful settings up to 504 cubic metres per hour.
Induction Hob with Extractor Pros and Cons
Pros
Purifies air – Effectively removes steam and grease at the source
Range of power settings – Match performance to steam output
Waterproof mechanism – Resists corrosion from spillages on your hob
Removable, washable filters – Regular maintenance contributes to the effectiveness
Recirculating or ducted – Choose the system that best matches your kitchen
Cons
Expensive – In-built extractors cost more to manufacture and purchase
Large mechanism – It means some hobs cannot be placed above drawers or ovens
Complex installation – Ducted extractors require additional pipework
Is an Induction Hob with Built-in Extractor Worth it?
An integral extractor is far more streamlined than a separate fan or cooker hood. It's also highly efficient at extracting steam, grease and fumes before they have the chance to circulate beyond the hob itself. It's ideal for both spacious and compact kitchens.