Finding a crack in the ceramic glass top of your stylish induction hob is a devastating blow. Regardless of who did it or how it happened, you'll have to decide whether an induction hob glass replacement is worth the expense. However, there's one thing you can be sure of. A cracked induction hob is not safe to use.
You must turn it off and avoid cooking on it until it has either been repaired or replaced. But what should you do? Replace the glass top on your induction hob or simply purchase a completely new hob?
Can the Glass on an Induction Hob be Replaced?
Yes! The ceramic glass surface of an induction hob can indeed be replaced. The cracked glass top is removed and a new one is put in its place. However, it's not quite as easy as it sounds. It can be a difficult job due to the complexity of the internal construction of a standard induction hob.
The ceramic glass actually sits on a frame that keeps it at the right height from the burners. The copper wires of each burner are usually attached to the frame. So too is the wiring for the touchscreen control panel.
It can often take longer to disentangle everything, then reconnect the different components and fit a new pane of glass than a straightforward installation. It's the main reason why an induction hob glass replacement can be so expensive.
Induction Hob Glass Replacement – Is it Worth It?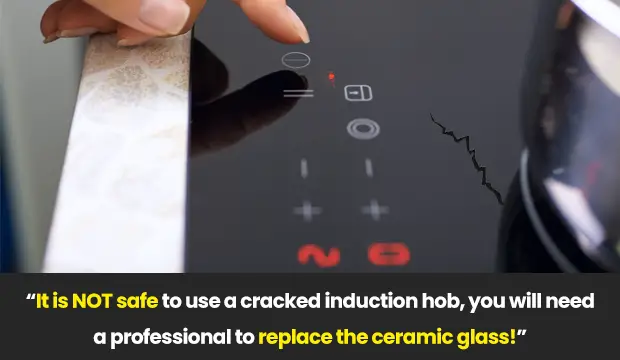 Trying to decide if it's worth a costly repair to restore your induction hob to full working order depends on a few basic factors.
First, how old is your appliance? The average life expectancy of an induction hob is ten to fifteen years. Some brands are more reliable than others and may last a little longer.
If your hob is around nine years old or more, it could have limited future use. Since it was manufactured, there have been many subtle changes in kitchen appliance technology such as Smart control. An ageing induction hob may not be as streamlined when it's repaired as if it was brand new.
A major influence is green technology. Today's kitchen appliances are specifically designed for ecological energy-efficiency and economical running costs.
Induction hob glass replacement for an old model could be counterproductive as the hob itself may use more energy and cost more to run than if you purchased a brand-new cooktop.
An induction hob that is only two or three years old has plenty of life left in it. It should also be equipped with all the latest Smart technology and have an improved energy-efficient, ecological design.
Induction hob glass replacement on a fairly new version could provide an improved return on investment than an older version.
Can I Replace the Glass on an Induction Hob myself?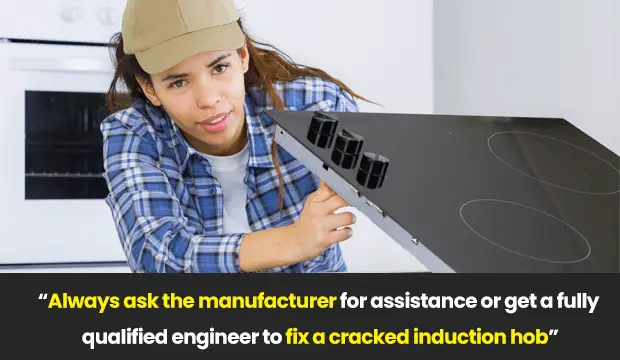 The cost of a professional replacement for your induction hob's ceramic glass often makes many DIY enthusiasts consider doing the job themselves. After all, there are many video tutorials on websites and platforms such as YouTube.
However, you can't be sure of how reliable the repairs in such videos are or if they were even successful. Some can often be promoting professional services.
The ceramic glass top of your induction hob conceals a mass of complicated wiring. If you ever see inside an induction hob, you'll be surprised by how many miles of wires there are.
As outlined above, they all usually connect to the frame and glass top. Differentiating between those for the separate internal plates, the touch screen controls and the burners can be virtually impossible unless you are a trained professional.
The aesthetics of your induction hob is worth considering. The glass and the supporting frame need to be positively level. Otherwise, you could end up with ingredients sliding to one side when you're cooking. Incorrect balance could also interrupt the electromagnetic connection between pans and burners.
The safety aspect is crucial. Amateurs dabbling with electrical appliances is a recipe for disaster. One false move such as incorrect wiring can literally be fatal.
The best advice is to hire a professional, fully-qualified electrician to replace the glass on your induction hob.
Induction Hob Glass Replacement Cost
When you appoint a professional electrician to replace the glass on your existing induction hob, you'll have to pay for the spare parts and the labour charges. It depends on which brand and model you have to determine the exact cost. However, the replacement usually comes as a kit that includes the ceramic glass and the supporting frame.
Typical spare part prices can range from £200 to £400. AEG are sometimes the least expensive, with Bosch components as intermediate, and brands such as Neff being the most expensive.
The average labour charge for an electrician depends on your location, but you can expect to pay between £30 and £60 an hour. In total, your costs could be between £300 and £600. The price of a brand-new induction hob starts at around £250.
Summing up
When you need to replace the glass top on an induction hob, you have to assess the age and original cost of the cooktop. If your induction hob is only a couple of years old and an expensive high-end model, it might justify the expense of the repair.
You might not be so enthusiastic about an inexpensive hob that's almost ten years old. Alternatively, consider how a brand-new, energy-efficient induction hob might offer the latest in design, technology and economical running costs.