When it comes to affordable pots and pans, Tefal is a household name that most people are familiar with, but do Tefal pans work on induction hobs?
Do Tefal Pans Work on Induction Hobs?
Yes, Tefal pans work on induction hobs, but NOT all of them.  It often depends on when they were manufactured. Induction hobs are relatively new in terms of everyday use and if your Tefal pans were purchased a long time ago, they might not have been specifically designed as induction hob compatible.
Is my Tefal Pan Induction Compatible?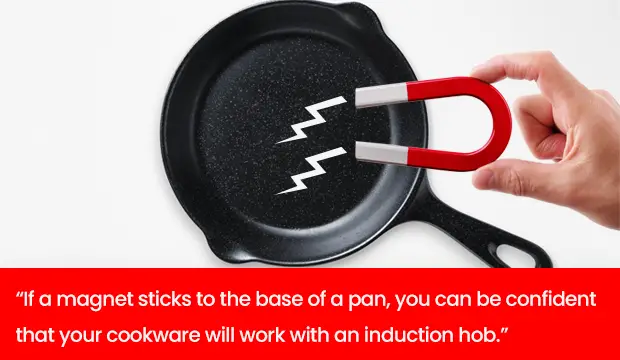 As mentioned above, not all Tefal pans will work on an induction hob.
The easiest way to test your current Tefal pans for induction compatibility is to use the old magnet test.
Place a magnet on the bottom of the pan, if it sticks to the pan then your Tefal pan will most likely work on an induction hob.
Tefal pans, like others, require a magnetized base to activate an induction hob. If the pan does not have a magnetized base, the hob simply won't turn on.
How to Make Non-Induction Tefal Pans Work on Induction Hob
If you have an older incompatible Tefal pan you're fond of and want to use it on your induction hob, there's a simple workaround you can use to make it work on your induction hob.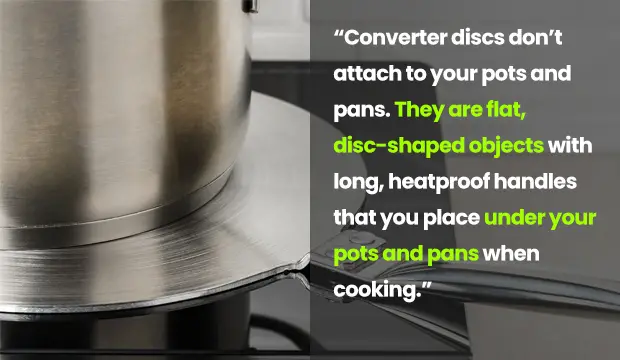 You'll need to buy a converter disc, this converter disc sits between the pan and the induction hob and allows normal non-induction compatible pans to work on an induction hob. Just make sure to choose the right size to fit the pan.
Can Tefal Induction Pans go in the Oven?
Not every Tefal induction hob pan can go in the oven, but it's a versatile function that's usually common to many of Tefal's newest models.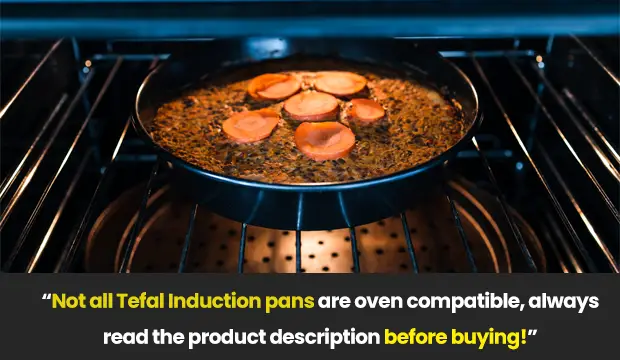 Tefal's series of anodised pans are super strong and reliable. They are designed for direct transfer from hob to oven. You'll find handles that are heatproof to 210 degrees Celsius.
A stylish Tefal series such as the Ingenio Thermocheck consists of advanced cookware. Pans include an infrared sensor to guard against overheating and damaging the pan.
Most of the pans include detachable handles that make storage so much easier in a small kitchen. It also makes the pans convenient for use in the oven.
Are Tefal Induction Pans Dishwasher Safe?
More people than ever before now have a dishwasher to escape the drudgery of washing pots and pans by hand. Tefal pans are usually suitable for placing in a dishwasher.
The Tefal Ingenio Elegance Non-Stick Cookware Set is just one example of Tefal induction pans that are dishwasher safe. The set consists of 13 pieces and is ideal for everyday use and has the added advantage of being induction-friendly.
Tefal Induction Pan Not Working – Common Causes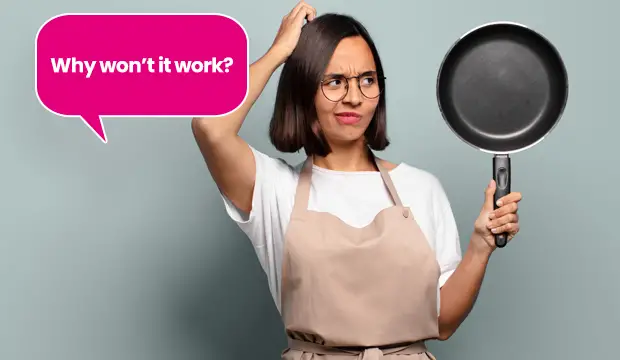 Although Tefal pans are strong and reliable, there are times when a pan simply doesn't work on an induction hob. However, there's no need to panic as there's usually a logical explanation.
The ceramic glass may have accumulated grease. Sometimes it's barely noticeable, but it can interrupt the flow from the electromagnetic circuit to the pan. Clean the glass, then make sure it's free of grease by wiping it over with diluted white vinegar.
Your Tefal pan should have a sturdy base that won't distort. If the pan refuses to activate the hob, there could be some debris preventing the pan from sitting perfectly flat. It's surprising how often an ingredient can stick to the base when you put the pan down on a kitchen worktop. Clean the base of the pan and it should then work.
If the pan has a much greater diameter than the cooking zone, it's probably not working as efficiently as it should. The base of the pan draws heat where it meets magnetised metal. When the pan exceeds the burner, it results in many cold spots that spoil the pan's performance.
Using a small pan such as a one egg frying pan can cause problems. The diameter of the base often makes it difficult to activate the electromagnetic heat if the burner is too large. Although the induction hob activates whenever magnetised metal is present, it's always best to match the pan and the burner sizes as accurately as possible.
Can Tefal Induction Pans be Used on Gas?
Yes, they can. Before the induction hob became widely available, gas was often the preferred energy source for cooking. It was traditionally less expensive than electricity, but it was usually the versatility that everyone liked.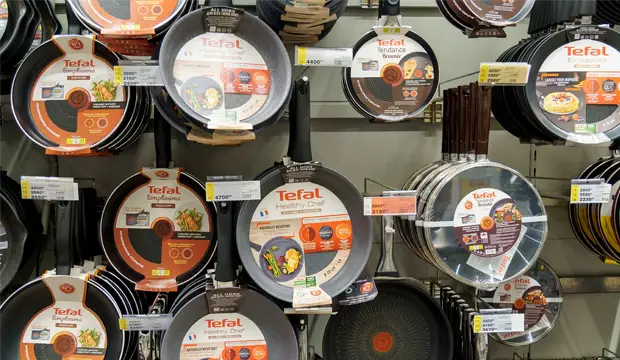 Many top chefs have used gas for its controllable flame and its relatively quick heat settings. Nowadays, many commercial kitchens have converted to induction hob cooking as it's the fastest, most energy-efficient method of cooking.
You'll find Tefal pans are perfectly adapted for use on gas stovetops. Tefal is no doubt aware that many households plan to switch to induction hobs in the future. Before you make the change, you can still use Tefal induction pans on your gas hob.
As magnetised pans, they are induction hob ready for the time when you decide to install an induction hob.
Can Tefal Induction Pan be used on a Ceramic Hob?
Yes, it can. In the evolution of fitted cooktops, the ceramic hob is placed between the gas or electric hob and the latest induction hob. The smoky glass surface of a ceramic cooktop looks identical to the induction hob.
Tefal pans have always moved with the times. Before the induction hob, they were designed to be compatible with the ceramic stovetop. The base of each pan became noticeably thicker to provide a stable connection to the heat source below the ceramic glass.
A layer of strong steel is included for strength, while aluminium ensures effective heat distribution. The design is virtually the same as for an induction pan. If your Tefal pans are suitable for an induction hob, they should also work perfectly with a ceramic hob.
Wrapping up
Tefal pans work on induction hobs with incredible reliability, just make sure when you're choosing your pan, the description states clearly that they are induction compatible.