Cooker vs hob is always a hot topic during a kitchen refurbishment. Your choice primarily affects the design of your kitchen workspace.
However, the appliances might also vary in price, type of fuel supply and convenience of use.
There are advantages and disadvantages when choosing either system, so let's have a quick look at the main differences between a cooker vs hob.
[lwptoc title="Table of Contents" hideItems="1″]
What is a Cooker?
A cooker is often referred to as a stove in American English. It's a large appliance that keeps all your cooking facilities in one independent unit. It stands on the floor and fits into a space between your kitchen cupboards.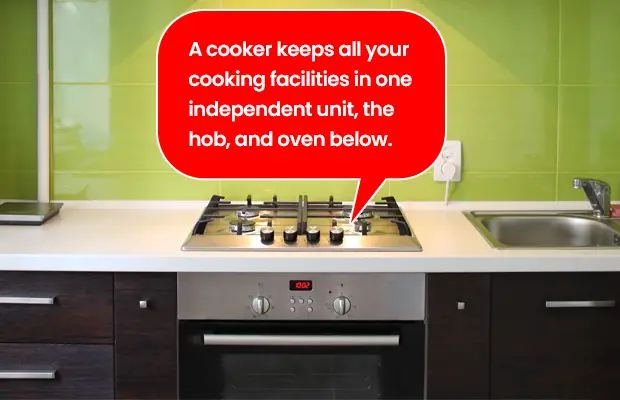 The lower part consists of a large oven where you'll roast or bake food. In many designs, there'll be a full width, small compartment above it, which doubles as a second, small oven with facilities for grilling food or toasting bread.
On top of the appliance, there is an integral hob. Some may have a ceramic glass surface for a streamlined appearance.
There are usually four burners for stewing or sautéing food in saucepans and frying pans, or simply boiling a kettle of water for making tea.
Less popular these days is a cooker with the grill section raised above the hob. Occasionally, cookers offer the versatility of choosing gas or electric for the individual sections of the appliance.
Cooker Pros and Cons
Convenience – A cooker is an all-in-one appliance with everything you need in just one place. It can often be a wise choice if your kitchen is short of work surfaces. It's also an advantage if you enjoy more complicated cooking such as braising meat in an ovenproof griddle on the hob before transferring it to the oven.
Cost – Cookers cover all price ranges from budget-friendly to wildly expensive. You'll have a great choice of styles and a gas or electric power source. There are even top range cookers with the electromagnetic circuitry of an induction hob. For only one price, you'll get all the facilities you could want, including a hob, grill and oven.
Easy installation – Minimal installation is required for a cooker. With gas, you'll need a professional Gas Safe engineer to connect it to the household supply. With an electric cooker, it simply needs wheeling into place and plugging in.
Versatile – A stand-alone cooker is literally separate from the kitchen cupboards and worktops. If you decide to move house and you're fond of your cooker, you can easily take it with you.
Not so streamlined – With any all-in-one cooker, you'll need to have spaces around it for safe ventilation. If you've set your heart on a fully fitted, streamlined kitchen, a cooker won't quite match your ideal.
Durability – Cookers can last for years, but very often, one section becomes inefficient ahead of the rest. It means you either replace the whole appliance even though one or two sections still have a lot of life left in them, or you put up with a poor performance until the entire cooker wears out.
What is a Hob?
When choosing a separate hob, you'll only have the top section of the cooker to consider. It should look the same with four burners. This independent unit has to be fitted into a kitchen worktop.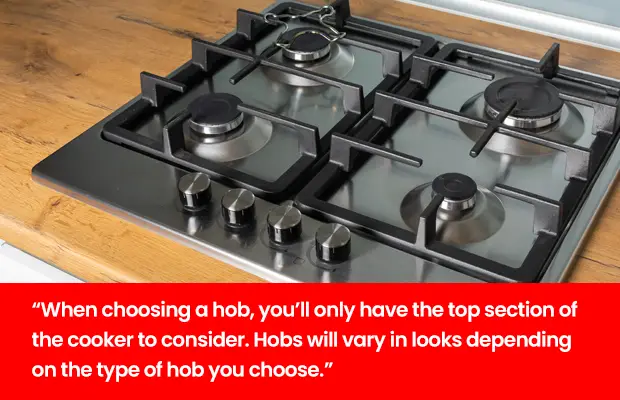 There is usually a choice of gas or electric. Hobs also have a variety of styles. With gas, your hob will have traditional cast iron grids to support the pans when using the burners.
Choose electric and your hob can have exposed heating rings or have them hidden beneath a full-sized ceramic glass plate.
There is also the option of an induction hob, which looks identical to the ceramic hob. However, it operates through an electromagnetic field.
This uses neither heated rings nor flames and leaves the glass cool to the touch.
Hob Pros and Cons
Choice – You'll be able to choose gas, electric, ceramic or an induction hob. It's easy to concentrate on the merits of a hob because there isn't the complication of other sections such as an oven. It's also easier to choose different powers sources for a separate hob and oven combination.
Easy replacement – Most households use a hob more than an oven, placing greater wear and tear on the appliance. But with a separate hob, it's easy to replace it when it's no longer efficient or if you want to upgrade to a new system such as an electromagnetic induction hob.
Streamlined versatility – A hob fits directly into a worktop, giving your kitchen a designer look without any spaces at the sides. You can even have a hob installed in an island unit that would be quite inappropriate for a stand-alone cooker.
Ease of use – Purchasing an individual hob leads to a separate oven, which is usually installed at the same height in another part of the kitchen. This is a practical solution if you have difficulty stooping down to the low oven of a cooker. You can keep all your cooking facilities at a convenient height.
Inconvenience – Depending on the layout of your kitchen, your hob could be a long distance from where your oven is installed. This can be annoying if you like to cook dishes that include searing meat on the hob before braising it in the oven as you could have a fair distance to take the griddle or pan.
Cost – Separate appliances often work out more expensive than a single cooker. Purchasing an individual hob allows you to spread the cost by installing an oven at a later date. You might even decide you don't need an oven and instead, rely on individual, plug-in appliances such as a slow cooker and microwave.
What's the Difference Between a Cooker and a Hob?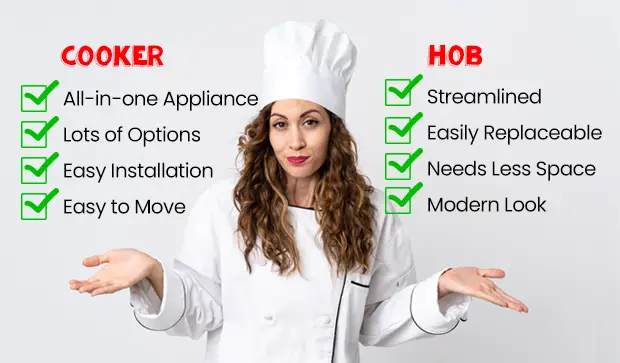 There are several points to consider regarding cooker vs hob. The design of your kitchen is important. A freestanding cooker won't present a totally streamlined image as you have to leave around two inches (ten centimetres) on either side and the back for safe ventilation.
There will always be gaps between the cooker and the cupboards where food can spill.
An individual hob can often be placed in more locations as it fits into any countertop providing it's within reach of your preferred power source.
You also gain more freedom with choosing a separate oven. It's easier to choose a different power supply for each component rather than having to find a cooker that offers this option.
How you use your cooking facilities may influence your choice of cooker vs hob. With a cooker, you have to stoop to access the oven. This can be awkward if you have heavy, hot dishes to lift out.
With a separate hob, your oven can be installed at a much more convenient height. This can be helpful with checking on the progress of food, basting roasts and removing dishes from the oven.
Long-term use for your cooking appliances can be uneven with one section wearing out before another. With a full cooker, you'll have to replace the entire unit even if for instance, the oven is still in good condition compared to the hob.
Choosing a separate hob and oven means you only have to replace the faulty appliance. It's relatively easy updating your cooker as it simply needs to be wheeled away before installing a new one. A separate hob must be installed into the worktop.
Wrapping up
Cooker vs hob is an investment that should be considered carefully. It's important to design your kitchen according to how you might use your cooking appliances.
A cooker usually involves frequent bending due to the low position of the oven. However, it's useful for keeping all your cooking facilities together.
It's easier to find a separate hob with a different power supply to the oven. It's also more convenient when deciding to upgrade appliances to the latest innovations such as an induction hob.