The debate over ceramic hob vs induction may be on your mind if you're shopping for a new cooktop for your kitchen. What do the differences mean for your decision?
While both options offer benefits for easy, efficient cooking with a very attractive look, it's important to know the differences between ceramic hobs and inductions hobs before choosing either.
[lwptoc depth="1″ hideItems="1″]
Ceramic Hobs vs Induction – The Key Differences
Ceramic hobs and induction hobs have lots in common but they are by no means interchangeable.
Based on your plans for updating your kitchen, you'll find that one option simply provides a better fit for everything from budget to cooking preferences.
Here are some of the key differences between ceramic hobs and induction hobs:
Ceramic Hob vs Induction Hob Heating Mechanics
The reason why the cooking experiences with ceramic and induction hobs aren't identical comes down to the actual mechanics of these cookers. While both do feature the same glass top, there's a world of difference beneath the surface.
Ceramic hobs actually contain metal coils that are similar to the cooking elements on most standard hobs. This makes the cooking experience similar to cooking with a traditional electric hob.
With induction hobs, high-frequency electromagnets are actually responsible for generating heat.
What makes this option unlike anything else in your kitchen is that the electromagnets create a magnetic field that's capable of heating your pan to perfection without creating any heat on the surface of your induction cooktop!
While both ceramic and induction hobs tend to have built-in safety features, it should be noted that the "heat-free" cooking of the induction hob makes it a slightly safer option to have in your kitchen.
Ceramic Hob vs Induction Hob Pricing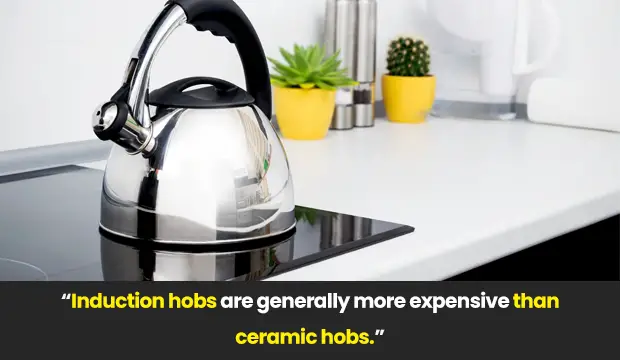 Which option is the more affordable option between ceramic and induction hobs? It turns out that ceramic hobs are less expensive than induction hobs.
Considered the "budget" hob option, ceramic is more affordable simply because the technology is less sophisticated.
It is a great choice for someone who wants the look of a sleek, modern kitchen on a slightly tighter budget.
The good news is that you'll have many different styles to choose from within the ceramic family even if you do have some budget constraints.
Ceramic Hob vs Induction Cooking Experience
Next, it's time to dissect the differences that you'll see in the actual cooking experience. Which option cooks faster?
The reason why induction hobs tend to be pricier than ceramic hobs is that they heat up very fast! In fact, this type of cooker is prized for its lightning-fast heat-up time that never leaves you standing around the kitchen waiting for water to boil before you can throw in your pasta!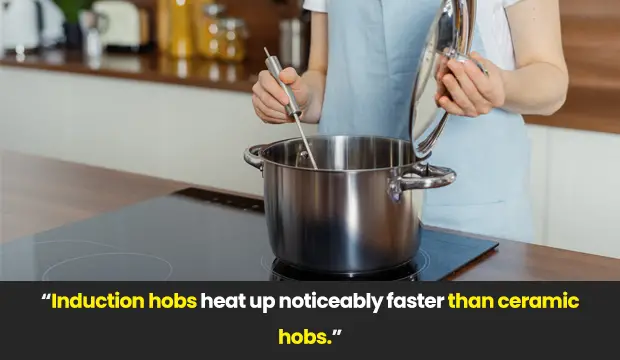 By contrast, ceramic hobs are known to be slow to heat up. If you're coming from a standard electric hob, the difference won't be very noticeable. However, you may notice the lag with your new ceramic hob if you're coming from gas.
Induction hobs don't just dazzle because of their fast heating times. Generally, chefs love this option because it provides a more customizable cooking experience based on the way that heat levels can be manually controlled throughout the cooking session.
If you're serious about cooking, it's hard to deny that an induction hob will allow you to use very precise temperature changes as you heat your food.
What Ceramic Hobs and Induction Hobs Have in Common
The list of qualities that ceramic and induction hobs share is long. First, there's the aesthetic. Both induction and ceramic hobs offer that smooth, built-in look that won't break up your kitchen by adding in a clunky appliance.
As you may already know, both ceramic hobs and induction hobs actually feature the same glass. In fact, both types of cookers are actually "glass-top cookers" even though they employ slightly different cooking methods.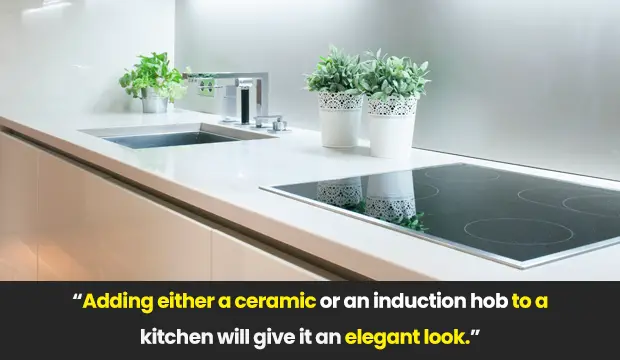 Another feature that ceramic and induction hobs share is a flat, smooth top lacking any protruding pan supports.
In addition to creating a smooth aesthetic, this design detail ensures that you never have to waste time cleaning supports with tons of nooks and crannies.
Lastly, you'll find that both ceramic and induction hobs offer tons of features for safety and efficiency as long as you're purchasing a new model. In fact, most have "locks" and alerts to prevent children from turning on the hob.
Ceramic Hob vs Induction: Which One Is Easier to Install?
This is a question that may be on your mind if you're trying to get a new hob installed in your kitchen quickly. The truth is that installation work is about equal for the two options.
In fact, both require their own electrical power supplies that are fed using cables. As a result, both usually require the help of an electrical expert when you're setting up a connection to your cooktop for the first time.
Ceramic Hob Pros and Cons
Sleek installation – Ceramic hobs are relatively inexpensive to buy and professional installation is usually quick and affordable. Many models feature completely rimless, dark glass that makes the hob look particularly sophisticated. Once a ceramic hob is fitted securely, it forms an almost uninterrupted smooth surface with your kitchen worktop adding a touch of style and class.
Touch screen control – Modern ceramic hobs usually have a touch screen control panel that's intuitive and simple to use. You can turn the heat up or down in an instant, ensuring the best results when cooking. Essential features often include pre-programmable settings, overheat prevention, an automatic timer and a childproof safety lock.
Easy clean – You should have no difficulty keeping the ceramic glass sparkling. Once the hob has cooled, it only needs a quick wipe with mildly soapy water and a soft, cotton cloth. With no metal borders around the edge and no protruding control knobs, debris can't easily become trapped.
Scratches easily – Ceramic glass is reliably sturdy, but the surface can easily suffer scratches. It's important to lift pans instead of dragging them away from the burners. Take extra care to avoid dropping heavy objects or metal utensils onto the hob as the impact can crack the glass. Harsh scouring pads and inappropriate cleaning products can also inflict unnecessary damage.
Expensive running costs – Heat distribution isn't very energy-efficient unless your pan exactly matches the concealed burner. Pans can also take a few minutes to reach the required temperature. Once you turn off a burner, the area of the glass can stay hot for more than five minutes. This residual heat is lost unless you use it wisely by finishing cooking ingredients. You also need to be watchful that children, adults or pets don't accidentally touch the hot glass.
Induction Hob Pros and Cons
Energy-efficient – The induction hob provides heat for cooking through electromagnetics, making it extremely economical. Only a small burst of electricity is needed to actually start the electromagnetic field, which is largely self-generating through intense vibrations. It means your running costs are usually very low. An induction hob consistently performs with great efficiency. It reaches high temperatures almost instantly and there is no residual heat produced in the burners.
Safe, cool glass – The ceramic glass of an induction hob stays remarkably cool when in use. The electromagnetic heat is only apparent in the area where it is directly in contact with a pan. Once the pan is removed the heat is too, leaving a cooking zone that's barely warm. An induction hob is often considered a much safer option for family life as children and pets can't be burned by the stay-cool surface.
Convenience and style – An induction hob has the same stylish looks as a ceramic hob, with a finish that's equally flush with a worktop. The smoky ceramic glass makes the hob easy to match to any kitchen decor. Touch screen control usually provides instantly responsive heat increase and reduction. Features generally include a safety lock and automatic timer.
Expensive – Induction hobs are relatively expensive to purchase. You'll usually encounter high installation costs as the electromagnetic system needs to be professionally connected. Repairs can also cost more compared to other hobs due to the complexity of the system. If your existing pots and pans aren't attracted to a magnet, you'll have to purchase a new set that shows the induction-friendly symbol.
Can be Noisy – The electromagnetic system can produce a humming or buzzing noise that can seem intrusive at first. The circuitry's vibrations often make pan lids rattle continuously, although this can largely be avoided by using high-quality pans of heavy gauge metal.
Summing Up
While both are good options, you're really making a choice between price and performance when choosing between induction and ceramic hobs.
The budget option is a ceramic hob that offers a beautiful design with good performance without the bells and whistles of the magnet-powered induction hob.
An induction hob offers state-of-the-art cooking with extreme control over temperatures using a method that heats only the pan without creating a hot burner.
Ultimately, both are going to bring your kitchen to a whole new level!