If you're looking for the best griddle pan for induction hob, our top 3 picks should definitely be on your radar if want quality and performance at an affordable price.
As you probably already know, not all pans will work an induction hob. To make things easier for you, all of the induction hob griddle pans listed below are 100% compatible and guaranteed on an induction hob.
[lwptoc min="2″ depth="1″]
What to Look for in an Induction Hob Griddle Pan
Solid construction – Griddle pan won't warp under extreme temperature
Sturdy, layered base – Combines different metals for optimal heat distribution
Removable handle – Versatility for use on hob and in oven
Notch either side – This allows you to pour off excess oil and fat
Non-stick coating – Easily clean away sticky grease
Best Griddle Pans for Induction Hob
---
1. Savisto Induction Hob Griddle Pan
---
This large griddle pan for induction hob is manufactured from high-quality cast aluminium. This ensures excellent heat distribution while remaining lightweight at just one kilogram (2.2 pounds).
Aluminium isn't magnetic, but the base is bonded with a layer of magnetised steel making the griddle pan perfect for an induction hob. The ridges of the pan have a strong, non-stick double-layered coating for added strength and durability.
Its impressive non-stick qualities enable you to cook food healthily without using any oil. You can easily drain away any surplus grease through the deep notches cut into opposite sides of the pan.
The Savisto non-stick Induction hob griddle pan is ideal for barbecue-style cooking techniques, such as searing or flash-frying. You can even remove the handle and transfer it directly to the oven or beneath a grill.
Pros
Drains grease easily
Double strength, non-stick coating
Ergonomic, detachable handle
Cons
Shallow sides
Lighter than most griddles
---
2. The Whatever Pan – Jean-Patrique
---
Griddle pans are traditionally square, but this version has an unusual circular design. Its stylish appearance makes it ideal for bringing it to your dining table and serving food directly from the pan.
It has a compact, 27-centimetre (10.6 inches) diameter and weighs 1.4 Kilograms (3.8 pounds). The small looped handles on either side provide a balanced, secure grip. The griddle pan can withstand oven temperatures of up to 250°C (482°F).
The versatile glass lid is suitable for temperatures of up to 180°C (350°F). The pan is manufactured from high-quality, die-cast aluminium. It has a seamless construction that keeps excess grease safely contained.
There are small indentations on either side for pouring away fat. The Whatever Pan has a robust, non-stick coating. It's guaranteed free of contaminants, such as PFAS, PFOA and lead.
There is a solid base of bonded ferrous metal ensuring an excellent connection with an induction hob.
Pros
Attractive, circular design
Convenient side handles
Glass lid for versatility
Cons
Limited space
Unsuitable for multiple portions
---
3. Andrew James Griddle Pan for Induction Hob
---
This heavy-duty, square griddle pan is ideal for techniques such as searing and chargrilling. The solid base has a centralised, circular panel of 16.8 centimetres (6.6 inches) in diameter.
It's made of magnetised metal, making it perfect for use with an induction hob. The pan is relatively lightweight and easy to manoeuvre.
The generous size of the griddle pan is just over 30 centimetres (12 inches) square. It provides plenty of space, helping you cook larger portions or several ingredients simultaneously.
The non-stick coating is durable and effective. It can withstand oven temperatures of up to 250°C (482°F) without harming the resilient, non-stick surface.
The contoured, ergonomic handle is very comfortable to hold. It also detaches from the griddle pan very easily and allows you to continue cooking your meal in the oven, this also helps with storage.
Pros
Large diameter
Deep sides
Detachable handle
Cons
Size can feel unbalanced
Grease notches shallow
Griddle Pan or Skillet?
A griddle is a type of large, heavy-duty frying pan with ridges, keeping food clear of grease and increasing flavour. British frying pans are called skillets in America.
Is a Griddle Pan Worth it?
A griddle has a very thick, heavy construction of cast aluminium or iron. It withstands intense heat and won't distort. A skillet or frying pan is usually relatively lightweight with a thin body of pressed aluminium or stainless steel.
A griddle should be in excellent condition after years of regular use. By comparison, a skillet's less robust construction will probably have caused it to warp.
Can a Griddle Pan go in the Oven?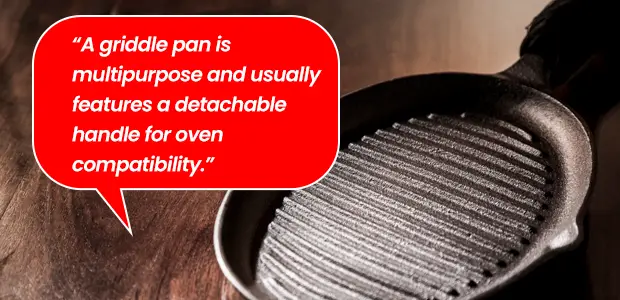 A griddle pan is multipurpose and usually features a detachable handle. It can be transferred from hob to oven with ease. Skillets and frying pans are generally intended for stovetop use, but there are special versions that can go in the oven as well.
Griddle Pan or Frying Pan for Steak?
The thick metal of a griddle is excellent for retaining and evenly distributing heat. It's ideal for the high temperature needed for frying steak. The thinner density of a frying pan won't be as effective.
---
Griddle Pan FAQ
---
Q.1. Is there an advantage in choosing an aluminium griddle pan for induction hob?
Aluminium is one of the most effective heat conductors. It also provides reliable, even heat distribution. It ensures high temperatures when searing meat.
As a non-magnetic metal, always check it has a layer of ferrous metal in the base when using it with an induction hob.
Q.2. What other metals are suitable for an induction-ready griddle pan?
Cast iron performs extremely well, but many people find the pans are very heavy to use, especially when they are full of food.
Stainless steel and chrome steel also provide excellent results. Many of these include aluminium in the base for improving the heat distribution of the pan.
Q.3. Why do griddle pans have ridges?
The full-width ridges effectively increase the surface area of the pan. The extra heat they generate enables you to sear and flash-fry meat in seconds.
The ridged design encourages the intense flavours of chargrilling. It also helps tenderise cheaper cuts of meat.
Q.4. Why use a griddle pan instead of a frying pan?
A griddle pan usually reaches much higher temperatures, cooking food much faster than a frying pan.
Combined with the efficient induction hob, your meal can be ready in a very short time.
Q.5. Does a non-stick griddle pan need seasoning?
The surface is usually reliably non-stick on its own. However, if you season the pan regularly with a light coating of oil, it should improve the performance of the non-stick surface and extend its lifespan.
Q.6. Will a griddle pan improve the flavour of the food I'm cooking?
Griddle pans are often used to give food, particularly meat, that chargrilled flavour that's so delicious. The high temperature and fast action help the food retain much of its nutrients, intensifying its aroma and taste.
Conclusion
The best griddle pan for induction hob is one that's versatile for use on the hob and in the oven, you can even use some griddle pans (like the whatever pan) for serving at the table.
Aluminium griddle pans perform well due to a magnetised layer in the base. Always choose a weight you are comfortable with as you'll need to manoeuvre it when draining away excess fat.
Remember, a griddle pan can also contribute to a healthy eating lifestyle, so take your time when choosing the best induction hob griddle pan for your needs.